Summary:
Nine gorgeous naked men take you backstage on a live set and show you, unapologetically, who they are in a behind-the-scenes documentary-style erotic feature that focuses on the real lives of porn performers. These award-winning, stunning superstars were 'Born to Porn', and they open up fully in this compelling and 100% satisfying bareback Falcon feature! Co-directors Steve Cruz and Leo Forte dive deep into the lives of these porn stars and explore their motivations for performing, its impact on their lives and the pros and cons of navigating that territory in a fast-changing world where social media is the driving force. Each scene gives you more insight and raw and intense views of these statuesque guys in full energized action.
Description / Review:
Scene 1: Adrian Hart and Cade Maddox
Cade Maddox is sitting poolside while getting his girthy cock sucked by Adrian Hart. While the cameras roll, Adrian works Cade's massive dick with his mouth, savoring every last inch. After getting his taste of cock, Adrian gets bent over and rimmed deep by Cade's hungry tongue. CUT! Switching positions, they move from the pool and Cade inserts his fat cock deep into Adrian's ass. Adrian gets pumped bareback full of Cade's award-winning cock. Cade paints Adrian's hole with his milk and rams his cock back in until his massive dick hits Adrian's prostate just right, and Adrian blows a load all over his rock-hard abs.
Scene 2: Devin Trez and Jimmy West
After doing their glamour shots and getting interviewed, Devin Trez and Jimmy West lock lips and caress each other's naked bodies in the hot tub. Jimmy is the first to make a move as he sinks into the water to deepthroat Devin's long, uncut pole. The passionate cocksucking continues until Devin bends Jimmy over to get a taste of his smooth hole. With Jimmy's hole open and eager, Devin works in his rod bareback until it's completely inside Jimmy's ass. It's a tight fit at first, but soon, Jimmy is pushing back on Devin's cock, eager for all his inches. As Jimmy's hole clenches his cock, Devin loses control and blasts off a massive load that sprays everywhere. Jimmy wants to bust so he lays on his back to keep getting his hole stretched until he unloads thick ropes on his stomach.
Scene 3: Colton Reece and Zario Travezz
Colton Reece and Zario Travezz are naked on the bed going at it. Zario notices the thick meat in between Colton's legs and bends down to fill his mouth with it. While Zario sucks his cock, Colton reaches back to play with Zario's tight hole. After railing Zario's throat, Colton lays on his front and Zario dives deep between Colton's cheeks the eat out his untouched hole. Now that Colton has had his hole licked, it's time to turn around and return the favor by tongue fucking Zario's eager ass. After Zario is full lubed with saliva, Colton lubes up and slams his thick cock deep into Zario's crack bareback. After the horny hunks shift thru multiple positions, Zario ends up on his back taking Colton's pumps until he gets coated with Colton's jizz while he strokes his own load onto his abs.
Scene 4: Devin Franco, Nic Sahara, and Devin Trez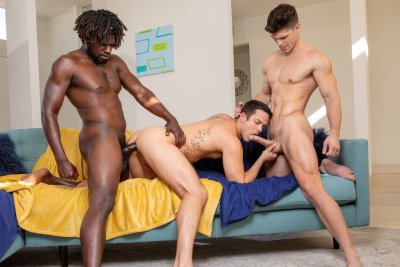 As Devin Franco and Nic Sahara are about to get down to business, Devin Trez joins the duo to get his cock sucked by them both. Devin Trez savors every moment that Devin Franco and Nic spend, devouring his cock. After fucking their throats, Devin Trez lines up the studs to he can rim Nic's ass while Devin Franco gets his cock sucked. With Devin Franco's dick in his mouth, Nic takes Devin Trez's pole up his hole. When it's Devin Franco's turn to get stretched, he hops on top to ride Devin Trez's meat bareback while Nic licks them both from behind. Nic wants in on the fun and lines up to DP Devin Franco. After squeezing his cock into Devin Franco's tight ass, Nic switches it up to feed Devin Franco the cock that was just in his ass while Devin Trez keeps pounding away. Devin Franco keeps sucking Nic's cock until a fresh load is delivered right his mouth as he gets bred by Devin Trez. Franco sits back one last time to jerk his cock until his nuts while Devin Trez fingers his hole.
Scene 5: Colton Reece and Vander Pulaski
Vander Pulaski is hard at work sucking on Colton Reece's cock. Once Colton is fully hard, he bends Vander over the edge of the pool and tongues his ass while teasing it with a few fingers. They decide to leave the pool and post up on a pool chair where Colton glides his fuck-stick deep in between Vander's cheeks. Taking a break from Colton's powerful bareback thrusts, Vander gets up to ride Colton's pole down to the base. To finish him off, Colton puts Vander on his back and drills his hole until Vander gets plastered with a thick load from Colton's dick. Now that Colton came, Vander chokes down Colton's cock one last time while he strokes his jizz out on the ground.