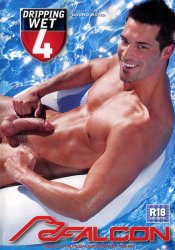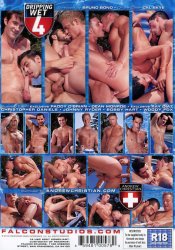 In this series:

The Best of Paddy O'Brian



Summary:
As the hot sun beats down, the eight guys with beach-ready bods in Dripping Wet 4 get heated up and horned up. The cooling water of the swimming pool can't keep their desires at bay. They want to be dripping wet with other forms of liquid: saliva, sweat, and semen. Director Bruno Bond combines these studs and all these fluids into a perfect mixture for getting off. As he ushers in the latest installment of this favorite Falcon poolside series, Bond excels at capturing facial expressions that portray the intensity of every sex act as he shoots this quartet of hook-ups guaranteed to make you drip and squirt. In each scene, swimsuits by Andrew Christian emphasize the flesh they're designed to conceal, and each stud doesn't take long to strip the suit off the other. When Paddy O'Brian parks his sexy haunches on the edge of the pool, the turquoise waters part and Johnny Ryder emerges, with a hot mouth in search of cock and a firm ass needing to be filled. Woody Fox is lucky to experience the amazing, wet cock sucking prowess of young hottie Ray Diaz, and then Fox takes a dick dive into Ray's deep end. Christopher Daniels and Dean Monroe show how experienced porn stars do it: slow, savory sucking then an abrupt change to "fuck me now," with each stud taking a turn as top. Cal Skye and Bobby Hart take to the open waters for a side-by-side floating 69 and rimming session before they reach land and Bobby takes the plunge into Cal. Don't be fooled by the pool. What really gets these studs Dripping Wet is each other.
Description / Review:
Scene 1: Paddy O'Brian and Johnny Ryder
Also available: The Best of Paddy O'Brian (Compilation)



The exquisite Paddy O'Brian is dangling his feet in the pool, but it's not likely to cool himoff, because there's a hot guy between his legs. Johnny Ryder is nibbling Paddy's lips, like amer-man from the deep who rose to find 180 pounds of muscle that needs a closerinspection at the edge of his world. Zing go the strings of Paddy's swimsuit when theinspection takes a turn. Johnny hooks the waistband of Paddy's trunks under his balls,causing them to lift and separate as the fat shaft above them sinks into Johnny's throat.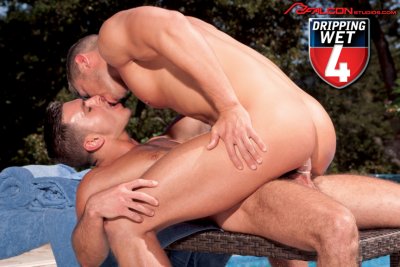 When no part of Paddy's hefty equipment is left unsucked, he rolls back and spreads hischeeks for Johnny's tongue to sample the depths of a hairy crack. They choose dry land forfucking, and Johnny's smooth, tan buns get split by Paddy's monster meat. Sweat breaks outin rivulets that follow the contours of their flesh, pooling in the hollow of Johnny's throatand curling around the hairs between Paddy's pecs. On the cusp of exhaustion from suchintense fucking, they jerk out well-earned loads.

Scene 2: Woody Fox and Ray Diaz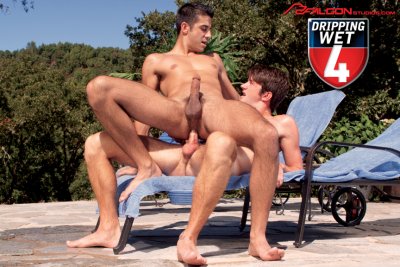 Everything is blue — the water, the tile, the towels, the planters and the swimsuits that are the only thing between the statuesque bodies of Woody Fox and Ray Diaz, who are necking in the pool. Ray distracts Woody with a nip at his nipples while groping under the waistband of his suit. Ray breathes along the length of Woody's raging erection, releasing it inch by inch and running his tongue along every millimeter before swooping in to swallow it in a single gulp. Woody's face throughout Ray's expert blow job is one of passionate disbelief. Instead of praising Ray's skill, Woody rewards him with a cock massage and rim job that leave Ray squirming to have his nutmeg-colored buns breached by Woody's inches. They fuck like rabbits, with Ray on his knees and Woody straddling his ass, pumping him full of cock at the rate of two strokes per second. When Woody needs a break, they move to a lounge chair for a sit-fuck, with Ray able to ensure that his sweet spot gets hit on every thrust. Ray's balls bounce so hard, that it has to hurt so good. A lot of screaming accompanies the creaming, leaving Ray dripping wet with two enormous loads.
Scene 3: Christopher Daniels and Dean Monroe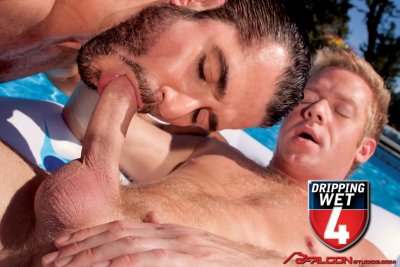 Blond stud Christopher Daniels is drifting on a raft when the stunning Dean Monroe pulls him in for a kiss. Sly Dean, sporting slicked-back hair and a full manicured beard, slips a finger in Christopher's ass while slipping his tongue into Christopher's mouth. Daniels arches his back and nods, "go for it." Dean takes a moment to survey his prey, letting one hand run down Christopher's thigh while the other circles his furry chest. Grabbing Christopher's hard shaft, Dean rubs the head around his nose and mouth before sucking it. Christopher needs to get fucked. Now. They seek dry ground and without further foreplay, Daniels settles his hole onto Monroe's upright cock. Loads of saliva are exchanged, whether it's Dean lubricating the cock he's sucking or Christopher spitting into Dean's mouth while he gets poled. The pace changes when Christopher dismounts and his face seeks out the musty cleavage of Dean's buns. It's Dean's turn to get fucked. Christopher spears him from behind, using more spit for lube. Six-packs ripple in unison until Dean suddenly rights himself, releasing a burst of cum that triggers Daniels to do likewise, then lap the gooey stickiness off the hairs on Dean's chest.
Scene 4: Bobby Hart and Cal Skye


Bronze Bobby Hart and lean Cal Skye lie head-to-toe on a two-man raft, each fondling thebursting crotch of the other's swim trunks. Cal has long limbs, rosy cheeks and a 5 o'clockshadow. Bobby exudes Latin lover, with thick black hair and skin the color of walnuts. Likehorny buddies exploring their sexuality, they expose their cocks and stroke each other.Bobby's cock gets so big, so fast that Cal has to lean over for a closer look. The hunger isoverwhelming, and Cal impales his face with Bobby's staff. They strip off their trunks inunison, then Cal resumes sucking. His own dick is dripping wet and leaves trails of pre-cumacross Bobby's flat tummy.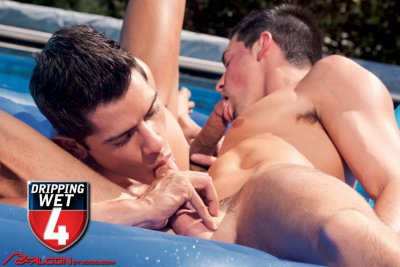 They sixty-nine on the water and Cal spreads Bobby's brownbuns and teases the moist center with his tongue. Cal's balls bounce and glisten as theyricochet off Bobby's lips on the down-stroke of his deepthroating. They kiss when theyleave the pool and choose a planter to fuck on. Cal is the bottom, and the flush on hischeeks spreads to his neck and chest as Bobby drills him deeper and faster. Heavy meatslapping a hungry ass sounds like applause. When Bobby's cock starts to shoot, it just keepscoming, and Cal ups the ante by coating the lens of the camera with his spooge.
Additional Information
Categories: UK R18 / XXX Gay Adult, Poolside Sex
Running Time: 123 mins, Year 2013
Price: Around £29*
Starring: Cal Skye, Bobby Hart, Christopher Daniels, Dean Monroe, Johnny Ryder, Paddy O'Brian, Ray Diaz, Woody Fox
Director: Bruno Bond
Studio: Falcon Studios
Buy DVDs online at: Simply-Adult.com, Homoactive and Radvideo (USA)
Gay Video On Demand: Falcon Studios See also: www.gayvod.co.uk
Member site: Falcon Studios
Country: USA, Language: English
Additional info: No Regional Coding