Summary:
There's something stimulating about a man in a suit and successful entrepreneur Roman Heart is proof personified. His hot and horny staff share his philosophy to keep their clients (and each other) happy and satisfied ... in the conference room, in the studio, at their desks and in the waiting room. It's every man for himself when sexual excitation is the order of the day.
Description / Review:
Scene 1: Roman Heart & D.O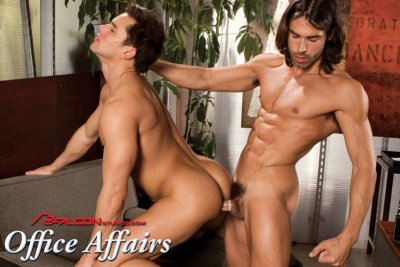 The key to Roman Heart's successful ad agency is his ability to cater to his clients. And as soon as he engages D.O. in a strategy on how he can best promote the designer's product, he knows he's clinched the deal. But business aside, there's a lot more the horny businessman would like to show D.O.; forget all the planning and discussions, Roman puts his mouth to better use as he begins to suck D.O.'s big juicy cock. The receptive customer grows increasingly turned on with the oral attention, his rippled abs bulging with pride as he slides his dick in and out of Roman's mouth. Then D.O. becomes more aggressive. He depants Roman and begins fellating him before turning his attention to his luscious ass. He jabs the tasty hole first with his tongue, then with his fingers and finally with his big hard erection. As D.O. pumps in and out, his tanned body glistens with a fine sheen of sweat and all Roman can do is take it like a man. The carnal negotiations rage on, fast and furious, until one after the other, the business partners seal the deal with shots of cum.
Scene 2: Tommy Defendi and Marcus Mojo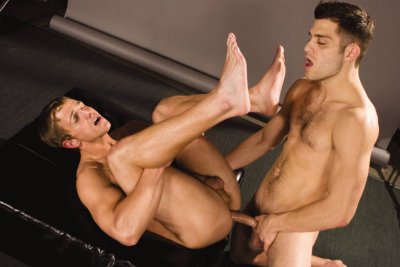 Tommy Defendi welcomes Marcus Mojo into his studio, anxious to photograph the hunky model for the new underwear ad. He sets up the shot, working like a pro to get his sexy subject calm and relaxed. He can't help but focus on Marcus' masculine beauty -- his handsome face, his muscled body with those massive pecs, and that golden glow emanating from him. He's a mannequin of human perfection; a delicious piece of eye candy and Tommy wants a bite. Marcus is just as turned on with the attention and is quick to bend over so Tommy can eat out his ass. All that tongue-tickling jamming his asshole proves too exciting for Marcus and he can't wait to work his sexual mojo on Tommy. He gets busy sucking the shutterbug's cock, ensuring that it swells to its fullest so it will fill his hole completely. Tommy slams his dick deep inside Marcus' buttcrack and bucks back and forth, building in speed and ferocity to a chorus of their passionate grunts until they both shoot their loads.

Scene 3: Marko Lebeau and Dylan Roberts
It's late and Marko Lebeau is ready to call it a day. He stops by Dylan Roberts' desk and the two co-workers jaw on about the latest model that's garnering attention in the office. Sure the guy's hot, but the fired-up friends are eager -- and horny enough -- to prove they measure up. Marko and Dylan shed their clothes and grow increasingly impressed and aroused with what they see. Marko's beefy powerful body, with a fine coat of hair running across his muscled chest is the perfect compliment to Dylan's smooth and slender frame. The men can't wait to get more familiar and physical with each other. Dylan begins sucking Marko's thick cock, overwhelming his pal with his oral skills. Then Marko takes over, luxuriating in the wonders of Dylan's entire being. He starts by nursing on his buddy's swollen dick, then works his way behind where he buries his face between the round mounds of his buttcheeks. Ready to amp up the excitement even more, Marko screws Dylan's ass, fucking him hard deep and fast until both men finally cum.
Scene 4: Landon Conrad and Brandon Lewis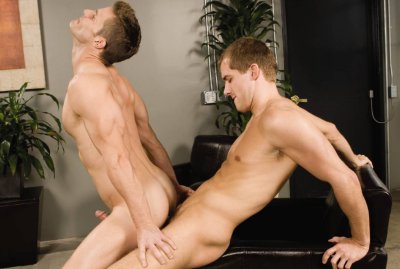 Early for his appointment, Landon Conrad settles down in the waiting room. He sits facing Brandon Lewis and begins to fantasize about the handsome young man. "What's under all those clothes? How big is his dick? Wouldn't it be fun running my tongue all over his body?" A million nasty thoughts race through his brain. Not the least bit intimated with being scrutinized, Brandon eyes the new arrival and wonders the same lascivious thoughts. He grows increasingly stimulated and quietly giddy with the thought of lips clamped tight around big cocks sucking away madly; of tongues dipping into puckered sphincters; of thick hard dicks slamming deep inside juiced-up assholes. The two strangers mentally strip each other down, imagining how their rock-hard bodies and rippling muscles must look like; what the other man tastes like, smells like, feels like; how explosive their orgasms can be. It's a double fantasy that has both of them sweating in their suits. There is a twitching in their loins, a thundering beating in their hearts and a craving that aches to be realized. Maybe their neckties are strangling clear thinking; but will their sexual appetites ever be fed?