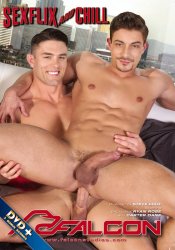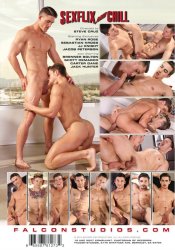 Summary:

Getting some hot action is as easy as sending a quick text with this question, popping in a hot movie and letting the action take over. Director Steve Cruz shows you what happens when eight gorgeous, horny hunks get together to Sexflix and Chill!
Description / Review:
Scene 1: Ryan Rose and Carter Dane
Ryan Rose arranges a hookup with Carter Dane, resulting in an intense fuck session that shows both these taut muscle studs at their finest.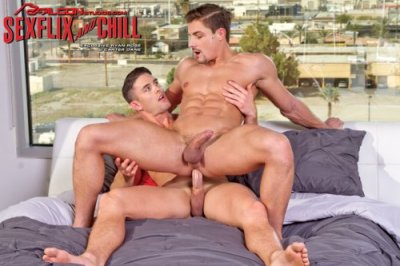 Legs spread and white briefs bulging, Ryan Rose is checking out the action on his Twitter feed when he gets a text from Carter Dane: 'Horny?' 'Of course,' is Ryan's reply. 'Sexflix and chill?' asks Carter. Ryan's cock twitches at the idea, and Carter heads over to Ryan's Vegas condo. Ryan greets Carter with passionate kisses and a finger up Carter's hole. Carter dives down to wrap his lips around Ryan's huge cock, displaying impressive deep throat skills. Trails of spit connect Carter's lips with Ryan's cock when he catches his breath. Bending over, Carter invites Ryan to eat out his tight hole, and Ryan dives in deep. He tongues the soft, pink center, and gives Carter's cock and balls play too. Ready to fuck, Ryan leaps onto the bed and presents his hard, throbbing cock for Carter to ride. Lowering himself down on Ryan's shaft, Carter power bottoms his way to the deepest, most powerful penetration. He gasps as Ryan pummels him from below; Ryan's eyes roll back with ecstasy. Their bodies glisten with sweat as they fuck their brains out with abandon. Rolling on his back, Carter lifts a leg high into the air, giving Ryan access to his tight fuckhole. The power of Ryan's fucking is incredible, and Carter revels in every second of it. Jerking his cock, Carter explodes on his stomach. He turns around to catch Ryan's white hot load in his mouth, and they seal the deal with a final kiss.
Scene 2: Jacob Peterson and Scott Demarco
Beefy, uncut Jacob Peterson ditches the porn he was watching on his tablet and wakes up his dozing buddy, Scott Demarco, kicking off a multi-position fuckfest.
Scene 3: Spit drips and cum flies when super-hung Jack Hunter and Brenner Bolton get together for some oral action.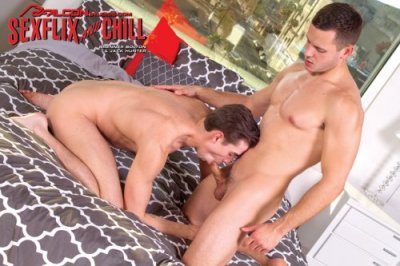 When two hung dudes get together, what better way to chill is there than a deep, spit-fueled cock sucking session? With his legs spread wide, his nuts hanging low, and his massive cock rock hard, Jack Hunter leans back on the bed and enjoys a blowjob from Brenner Bolton. Brenner's tongue teases the tip of Jack's cock, and saliva drips down Jack's impressive shaft. Jack's smooth nuts rise and fall as his body writhes with ecstasy. Switching places, Brenner presents his own man meat for Jack to choke on. Jack strokes himself while sucking on Brenner's cock, and Brenner reaches the climax. He shoots his thick, white load into Jack's mouth, and extra spurts of cum coat Jack's chin, shoulders, and arm pit with white spunk. Leaning down, Brenner positions himself to swallow Jack's load. He licks up Jack's load as it bursts forth, and the final drop of cum oozes down Jack's shaft and low hanging balls.
Scene 4: Sebastiaqn Kross and Carter Dane
Sebastian Kross' throbbing cock puts Carter's power bottoming to the test, and he passes with flying colours in a cum-splattering finale.
Scene 5: Brenner interrupts J.J. Knight's webcam session for a real-life encounter with J.J.'s giant hole-stretching cock.
Always eager to expose himself, JJ Knight goes online for some webcam fun. The viewer instructs JJ to strip off his t-shirt and shorts, but to leave on his tighty whities. JJ rubs his smooth, muscled torso and spreads his toned legs wide, revealing a gigantic bulge barely contained under the thin, white briefs. Meanwhile, Brenner Bolton peers around the corner, spying on JJ's cam session. The webcam viewer finally commands JJ to take his dick out, and at the sight of JJ's massive erection piercing the air, Brenner is unable to contain himself. He bursts into the room, ends the webcam session, and falls to his knees to service JJ's huge cock.
JJ returns the favor with a deep-throat blowjob on Brenner's cock before flipping him over and eating Brenner's ass with ultimate abandon. With his hole slick and ready for fucking, Brenner mounts himself on JJ's cock for an intense ride. As the energy soars, JJ spins Brenner around and pounds his hole doggie-style until Brenner spews a giant load. Brenner gets to his knees once more and takes JJ's massive cum geyser right in the face.
With all this action, all you have to do is invite over a buddy or two, put on Sexflix And Chill - and hit it hard.
Additional Information
Categories: UK R18 / XXX Gay Adult,
Running Time: 93 mins, Year 2016
Price: Around £33*
Starring: Ryan Rose, Carter Dane, Brenner Bolton, J.J. Knight, Jack Hunter, Jacob Peterson, Scott DeMarco, Sebastian Kross
Director: Steve Cruz
Studio: Falcon Studios (Falcon Pacs 150 onwards (2003 -date)
Buy DVDs online at: Homoactive, Simply-Adult.com, RadVideo (USA) & TLAVideo (USA)
Gay Video On Demand / Downloads: Falcon Studios, See also: www.gayvod.co.uk
Member site: Falcon Studios
Country: USA, Language: English
Additional info: No Regional Coding