Summary:
Behind its quaint exterior the Inn hosts a horny clientele seeking refuge in this nest of intrigue.
Its Victorian and placid facade belie what this special bed and breakfast inn is all about. All the hot and bothered guests who've come down for some rest and relaxation quickly find the Inn's hospitable front desk man and his cohorts generous to a fault; all of them eager to generate enough fierce manaction to blow the Inn's indulgence rating off the charts.
Description / Review:

Scene 1: Aden Jaric and Jordan Jaric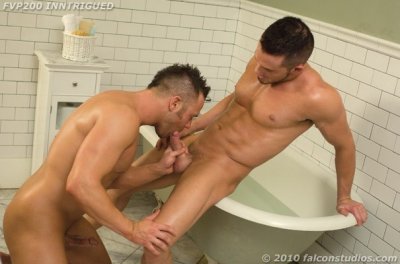 After his arrival at the inn Aden Jaric hits the bathroom to freshen up. Sitting alone, he gazes at his reflection in the mirror and starts to rub his naked body. Jordan Jaric comes in with some towels and is instantly mesmerized by what he sees. Their eyes lock and Aden issues an unspoken invitation that Jordan accepts. He strips down and Aden is quickly on his knees sucking his cock. Then it's the valet's turn to service his guest and he gobbles Aden's dick down with gusto. He starts to prep Jordan's hole by digging his tongue in deep; then he fucks him. The men switch up so Jordan can aggressively plow Aden's bunghole. Both jocks build up a sweat and continue screwing in the shower. Despite the water raining down on them, their passion continues to sizzle. Jordan pulls his dick out and splashes Aden's rump with his cum. Then Aden sits down and both men stroke their cocks. Jordan shoots a second load while the grateful guest responds with his own hefty discharge.
Scene 2: Landon Conrad, Rod Daily, and John Magnum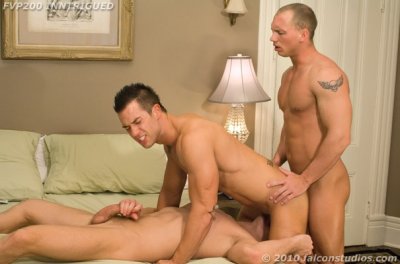 Landon Conrad and Rod Daily retire to their room and begin their romantic tryst. But in an adjoining room, another guest arrives. The door between the suites has been left open and lucky John Magnum gets to watch his neighbors in an unfettered display of passion. Rod is sucking Landon's rod and before long, he beckons John to join in. The three men become a mad entanglement of muscled flesh as they feast on each other's throbbing hard-ons. John grows dizzy as the lovers work on his cock, balls and asshole. Then Landon lays down with his head at his man's crotch and they begin to 69 while John is behind plowing Rod's hole. They change things up and Rod screws John's ass while Landon fellates him. Another switch-up creates a lot more fucking, rimming, cocksucking and even some teabagging. Landon jerks off while he watches John fuck his partner hard. Rod is the first to cum; then John busts his nut; and Landon follows up with his own smattering of mancream.

Scene 3: Leo Giamani and Tommy Defendi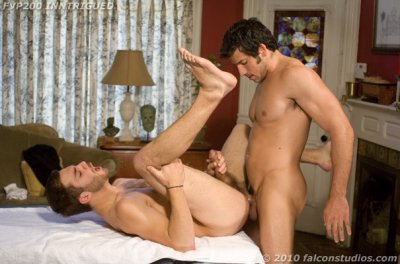 Ready for his massage Leo Giamani meets Tommy Defendi who instructs him to strip down and get on the table. The masseur applies a soothing lotion to Leo's back and begins a hard, deep rubdown. Tommy's hands work like magic ironing out all the tension from Leo's muscled body. He soon fixates on his client's round rump and runs his fingers across the asscrack before sticking a digit inside. Tommy teases and tickles the cleft with his tongue before he has Leo flip over so he can tend to his raging hard-on. After sucking on it with easy, measured slurps, he slides his pants off and snakes his cock down Leo's throat. Charged up and hungry for more intense therapy, Leo has Tommy flat on his back squealing like a pig as he fucks him nonstop. They get quite a workout as they change places and Tommy charges into Leo's tight ass. Ready to explode, the men jack themselves off until Tommy splatters the mirror with his cum and Leo follows up and shoots his load all over.
Scene 4: Roman Heart and Benjamin Bradley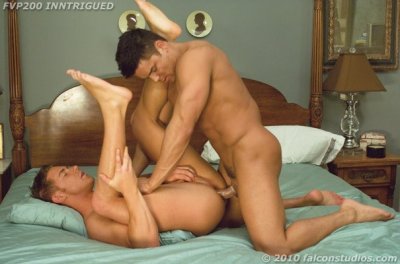 Lolling around in bed, Benjamin Bradley starts to play with himself, diddling his cock and feeling himself all over. He's bristling with lust and gets excited when Roman Heart arrives with breakfast. He invites the hunky innkeeper to join him, enticing him with his firm cock, tight asshole and pretty bubblebutt. Roman is practically salivating as he surrenders to desire and targets Benjamin's ass so he can tongue, finger, slap and rim the shaved hole. Then he sucks Benjamin's pole down with ease. Benjamin responds in kind and swallows Roman's dick. The men 69, breakfasting on each other's hunky sausage. Benjamin wants more and thrusts his cock deep inside Roman's ass, making the hotelier whine with pleasure. They change positions and continue to rock the bed with Roman screwing his guest's ass. Benjamin takes charge again and drills his host's hole until Roman finally climaxes and cums. Then the lucky lodger tips the man with a generous smattering of his own milky spooge.