Summary:
At their reunion, these Alumni serve up themselves in the hottest sexual situations when they reunite and take action on sex postponed, sex remembered, serendipitous sex and sex between lovers. These Alumni are erect with possibilities!
Description / Review:
Scene 1: Ray Diaz and Vance Crawford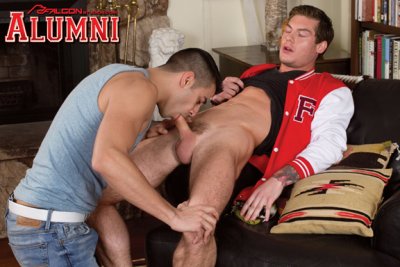 Back in his hometown for the class reunion, Ray Diaz is visited by straight former fuck buddy Vance Crawford. It takes about three seconds to get to "Remember when ...?" A big smile bracketed by dimples splits Ray's face. Conversation fades as they undress. Vance is already so hard, his dick gets in the way of removing his jeans. Ray sniffs and zeroes in orally, swallowing Vance's cock, then balls. Vance's thighs quiver: it's better than he remembered. Ray's six foot frame is smooth to the navel, then a treasure trail leads to his sizable cock, with tight furry buns and hairy legs to follow. Vance, a handsome, slender, wide-shouldered stud, wants all of Ray at once: to suck his cock, finger his crack and fuck him. Ray's on his knees when the fucking starts and on his back when it ends. The veins pop out on Vance's neck as he reaches the point of no return. Ray shouts as his cum bursts forth, spattering his chest and the furniture in a wide arc, followed by a long stream from Vance that shoots past Ray's head. Vance reunion orgasm is so intense he has to grab Ray's thighs to keep from falling.
Scene 2: Doug Acre and Justin Chase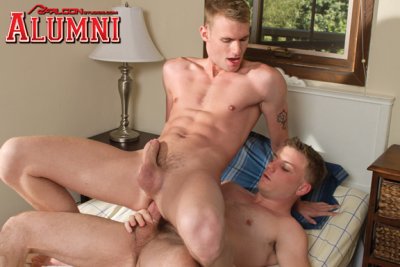 Traveling to their hometown for the big reunion, Doug Acre and Justin Chase share a hotel room. Justin wakes with morning wood, stroking himself while ogling the sleeping Doug. Justin has a smooth, toned runner's body, long legs, and an upward-curving cock. Judging by the tented sheet, Doug has morning wood, too. Justin lifts the sheet to peek, waking Doug in the process. Doug yans the sheet off to give Justin the full Monty of his fat 9-plus inches, claiming, "You wouldn't believe the lengths people have gone to see my cock." Doug is used to more than people wanting to see his cock: he invites closer inspection and gets his shaft bathed by hot lips. He reciprocates instantly when Justin asks, waving his pale buns like a white flag that commands attention. Justin leans over to plant a finger, then a tongue. Doug spreads the legs of his gymnast's body to afford deeper access to his tight, pink hole, groaning in ecstasy when Justin sinks his 8 inches. No stranger to cock himself, Justin wants to savor Doug's fat endowment in his ass as well as his throat, so they swap positions. Doug grabs Justin's cock while fucking him, and jacks him to orgasm, just as he unleashes his own load across Justin's thighs.

Scene 3: Brandon Jones and Cooper Reed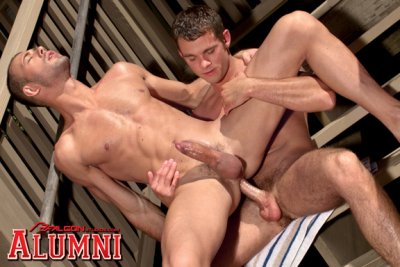 Brandon Jones invites his muscle-bound boyfriend, Cooper Reed, to his class reunion because he wants to show him off. Cooper agrees ... as long as he gets to fuck Brandon the next morning. Brandon is out in the yard when Cooper exacts payment by dropping his jeans and offering his uncut cock. Brandon's oral fixation makes Cooper's cock disappear, repeatedly. Brandon beats his meat while he sucks and rims his boyfriend, putting his talented tongue and lips to work where they have the greatest effect. Two naked bodies, sexually oblivious to the world, and summer sun -- the combination is unbeatable. By the time Cooper's cock is firmly lodged in Brandon's hole we see his smooth, wide-at-the-shoulder, narrow-at-the-hip torso with the rippling abs. They generate enough heat through friction and number of positions to set the grass on fire. Brandon's cumshot is an intense eruption, while Cooper does Brandon the favor of cumming on his face and kissing it clean.

Scene 4: Ray Diaz and Ryan Rose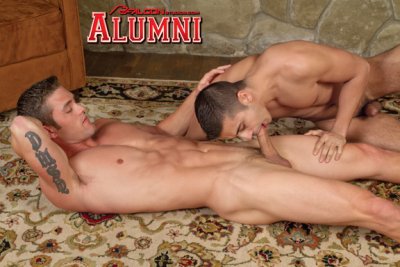 Ray Diaz regrets that he never made a move on his idol, hot jock Ryan Rose, back in school. But at the reunion, a mutual friend tells Ryan about Ray's crush. Ryan pays Ray a visit. Truth and dare come down to this: how fast can they strip? Not as fast as you'd think, given they can't keep their lips apart. Ray takes his time worshiping his fantasy man, finally fulfilling his desires. He gives Ryan sexy smiles, full-body contact, writhing hips, caressing hands and busy lips. The only part of Ryan that doesn't swoon is his cock. At last, these two stunning men get to release the pent-up lust of a decade. Time has served to kindle a hotter flame, to let the bodies achieve greater perfection, from Ryan's perfectly smooth, curved buttocks and hard, concave tummy to Ray's runner's build and hairy, thighs just made to hold you. Perfect evidence of their intense feelings is the connection they have when Ray sits on Ryan's cock, pumping and gyrating his hips while his own cock steadily drip-drip-drips precum on Ryan's abs. With added sucking, rimming and changes of position, volcanic cumshots and canoodling by the fireplace afterwards, it's a fuck to remember ... and maybe the beginning of a beautiful relationship!
Additional Information
Categories: UK R18 / XXX Gay Adult
Running Time: 95 mins, Year 2013
Price: Around £29*
Starring: Cooper Reed, Ray Diaz, Brandon Jones, Vance Crawford, Justin Chase, Doug Acre, Ryan Rose
Director: Steve Cruz
Studio: Falcon Studios
Buy DVDs online at: Simply-Adult.com, Homoactive and Radvideo (USA)
Gay Video On Demand: Falcon Studios See also: www.gayvod.co.uk
Member site: Falcon Studios
Country: USA, Language: English
Additional info: No Regional Coding