See also:
Buck County 2 Road to Temptation

Summary:
Bucks County is in the rural back roads of America and home of young, all-American guys. Athletic and virile, they work hard. They play hard, too, sharing energetic, intimate moments with each other. Their spontaneous, carefree sexual attitude is a testament to their simple surroundings and their need for release. Rural innocence and lusty desire create a brotherhood of sexually liberated studs who frolic naked in the sun, exchanging intense pleasures.
In Bucks County 1 - Into the Wild DVD, the imaginations of award-winning directors Tony Dimarco and Bruno Bond brilliantly capture the relentless sexual appetites of these sexy men and serve up the perfect combination of muscle, sweat and cock!
Description / Review:

Scene 1: Vance Crawford and Lance Luciano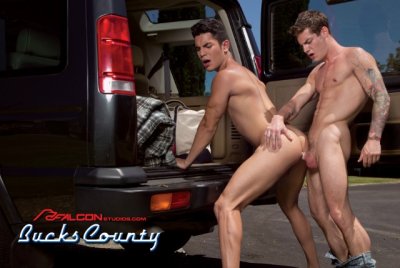 Vance Crawford and Lance Luciano arrive in an SUV. The blue skies, sunshine, balmy air and nothing to do make a potent aphrodisiac. Lance's unbuttoned shirt seems an invitation to touch his smooth, firm chest. That's exactly what Vance does, peeling off his own muscle-T at the same time. Vance is paler and slim, with sinewy shoulders, a brightly colored ink sleeve, a ripped torso and a narrow waist with deep cum gutters leading to his bush. Lance eagerly removes the rest of Vance's clothes, buries his nose in Vance's navel then works his mouth south to the veiny, half-hard cock and low-hanging balls that await. The bulge in Lance's shorts is growing, so Vance helps him out of them. Out pops an enormous uncut cock. It looks good enough to eat and it's big enough to require two hands and a mouth. But what Vince really wants is to sink his shaft in Lance's buns. They fuck in several positions in the back of their SUV, Vance cumming first in powerful jets onto Lance's chest, then Lance shooting onto the ground. Lance's full lips invite a kiss, and he gets one.
Scene 2: Woody Fox and Donnie Dean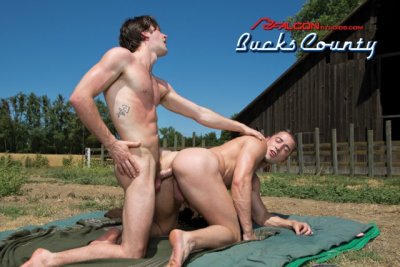 Studly show-off Woody Fox displays his gymnastic abilities in a grassy lawn, but Donnie Dean isn't interested in his acrobatics — he's wants Woody's dick. They find a cozy spot behind the barn to spread a blanket. While they trade savory kisses, Donnie's hand busies itself unbuttoning and unzipping Woody's pants. Once Woody's cock is free, Donnie gives it his undivided attention. Woody lies back to exult in the expert blow job he's getting, but one of his hands slips into Donnie's jeans so he can tease Donnie's crack and hole. Donnie's dark tan complements his broad and furry chest. He has a great time playing with Woody's foreskin. Once they are completely naked, they curl up in a 69 position, except that while Donnie sucks Woody, Woody fingers and eats Donnie's ass. A lusty sit-fuck showcases Donnie's abs. The western sun leaves their skin dripping with sweat. Woody gets more aggressive, fucking Donnie doggie style, then fucking Donnie's face and cumming in his mouth. Donnie squirts heavily onto the blanket as Woody's jism drips down his chin.
Scene 3: Woody Fox and Connor Maguire
Handsome Woody Fox and All-American Connor Maguire sneak away from a barbeque for some alone time. Connor grabs Woody's hand and they run off to a shady spot behind the house for dessert. Woody immediately goes for Connor's cock, gripping the base of it in his fist and inhaling the rest. His free hand explores Connor's broad chest. Connor pulls Woody to his feet to suck the cock juices off his tongue and blow him in return. The veins in Woody's cock throb as Connor's head bobs with determination until, with the aid of some spit, he is able to swallow it all. They pause for a deep passionate kiss, and Woody drops again to his knees and swirls his tongue around the head of Connor's cock while jerking rapidly with his fist, until Connor's breath comes short, his chest heaves and he shoots a wet load across the sparse hairs of Woody's chest. Woody then grabs his own cock and sprays Connor's chest with hot jism.
Scene 4: Ryan Rose and Connor Kline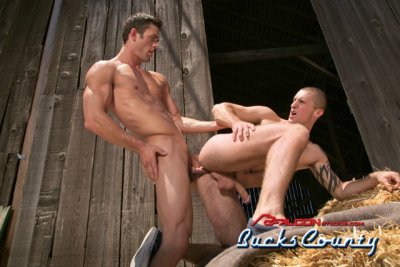 The country boy image of statuesque Ryan Rose tossing hay in jeans will make cocks twitch. Connor Kline agreed to help Ryan out, but when he arrives at the barn, Ryan is nowhere to be seen. Then, Connor spots a long hard dick poking through a knot hole in the barn door. Connor is on it in no time, his helping mouth swallowing Ryan's cock through the makeshift glory hole. Trails of Connor's saliva trickle down Ryan's cock to his balls. Ryan comes out to suck Connor, giving him a syrupy blow job that leaves Ryan's face smeared with drool and precum. Connor cock-beats Ryan's face, then Connor bends over a bale of hay, presenting one of the most perfect asses ever. Connor's hole is ready for the taking and Ryan immediately dives into the exquisite mounds tongue first, pinching the globes of Connor's buns and spreading them. Then, grasping Connor from behind in a half nelson, Ryan power drives his cock into the hot center of Connor's ass, and they continue fucking until they both dump thick loads on Connor's smooth chest.
Scene 5: Donnie Dean and Connor Maguire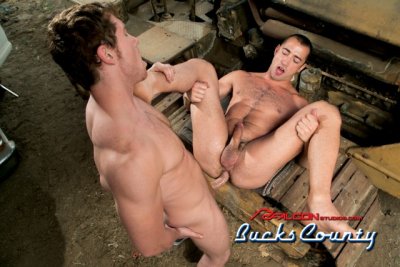 Country boy Connor Maguire is feeling frisky, so he finds a quiet place in the barn to jack off. His body is hard and firm, and he has a sprinkling of reddish hair across his pecs and down his tummy that lead to his super hard cock. There's an old truck in the barn, and sexy Donnie Dean is snoozing in the front seat. He wakes up when he hears Connor and he emerges from his nap ready to suck. Donnie's hard-bodied enthusiasm is infectious. It's a tossup which is hotter — his mouth or his hole — and lucky Connor doesn't have to make up his mind because he gets them both. After getting his cock sucked, Connor delivers an expert rim job to Donnie's hairy hole while he's laying back, legs spread on the hood of an old pickup. After its primed and ready Connor goes to down on Donnie's hole with his cock, ramming his ass over the fender of the truck and on a tractor. Pleasured by the intense pounding, Donnie squeezes and jerks his cock jism squirts out, coating the hairs on his chest. Connor's major load quickly follows.
Additional Information
Categories: UK R18 / XXX Gay Adult
Running Time: 90 mins, Year 2013
Price: Around £29*
Starring: Vance Crawford, Ryan Rose, Connor Kline, Woody Fox, Lance Luciano, Connor Maguire, Donnie Dean
Director: Tony DiMarco
Studio: Falcon Studios
Buy DVDs online at: Simply-Adult.com, Homoactive and Radvideo (USA)
Gay Video On Demand: Falcon Studios See also: www.gayvod.co.uk
Member site: Falcon Studios
Country: USA, Language: English
Additional info: No Regional Coding