Summary:
Fleet Week was inspired by President Theodore Roosevelt's "Great White Fleet" — sixteen battleships manned by 14,000 seamen circumnavigating the globe — in 1908. In years since, Fleet Week has offered tarheels from across the country an unmatched opportunity to take advantage of all that sparkling port cities like San Francisco have to offer... and take advantage, they do!
Follow along with sailors Aden Jaric, Landon Conrad and Chaz Riley as they paint the town in a whirlwind tour of erotic discovery and manifest destiny. Come celebrate our ripped, randy and ready seamen in another Fleet Week adventure.
Description / Review:
Scene 01: Landon Conrad and Parker Perry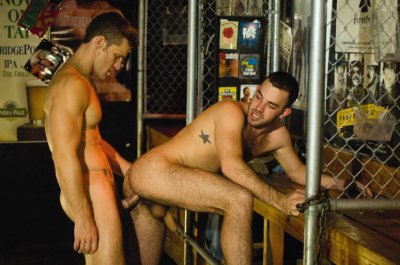 Having been away at sea for a long six months, Naval officer Landon Conrad's happy as a clam when his ship finally drops anchor in San Francisco. He dives into a gay waterhole for some R&R where hunky barkeep Parker Perry knows exactly what to do to satisfy the man in uniform. He makes headway to Landon's crotch and runs his tongue and mouth up and down and all over his already stiffened staff. Then he goes for his poop deck and rims his asshole. The men switch places so Landon can service the lucky landlubber and he swabs him from fore to aft and from stern to stern gobbling down his cock and eating out his ass. Landon then sinks his dick into Parker's asshole, fucking him so hard that all the bartender can do is scream for more. The men twist into different positions, both of them drowning in their desire for more and more pleasure. They separate to jerk themselves off, the excitement and thrill running out of control until one after the other, they shoot their loads.
Scene 02: Cole Streets, Conner Habib, Cliff Jensen
Cliff Jensen and Cole Streets hit a porno shop to see what they can pick up. They spot Conner Habib cruisin' them and quickly head his way. Conner's been hankerin' for hunky seamen and guzzles their dicks down. Then all three shuffle off to a private playroom where they strip down and engage in a more vigorous 3-man exercise sucking cock and eating ass. Cliff and Cole tease Conner as they jam fingers up his booby hatch making him whimper and gasp. Then Cliff lays back so Conner can suck his cock and rim his ass while Cole is behind fucking the civilian's hole. Soon it's all hands on deck as they line up for a daisy-chain fucking with Cole in the lead, Conner in the middle and Cliff taking up the rear. The men rock back and forth generating enough sexual heat that leaves them wanting even more. Cliff multi-tasks as he fucks Cole while sucking Conner off. More rimming, more intense fucking and even more cocksucking follow until all three finally blast their wads.
Scene 03: Chaz Riley, Logan Drake
While exploring the big city, young seafarer Chaz Riley crosses paths with Logan Drake, just like two ships that pass in the night. The attraction between the two men is instant, mutual and cannot be denied. Logan invites the wandering sailor home and they get down to business right away. Logan can feel Chaz's big boner through his trousers and he can't help but rub the meaty bulge as they kiss. He quickly undoes the mariner's pants and fishes out his cock which he sucks to its full length and hardness. Then Chaz gets his turn to nurse on his host's dick, slowly swabbing it with his tongue. Logan resumes fellating the big fella's cock, then rims his asshole sending Chaz sailing into new spheres of ecstasy. Anxious to take things to the next level, the lusty helmsman slams his staff deep inside Logan's asshole and pummels him with a series of hardy thrusts until they finish themselves off by hand and finally climax, shooting sprays of cum all over.
Scene 03: Aden Jaric, Bobby Clark
Aden Jaric is an officer and a gentleman who reunites with his first mate Bobby Clark, both of them ready to go overboard and take the wind out of each other's sails. The two men batten down the hatches in their hotel room where they lock themselves in each other's embrace. They get out of their rigging and Bobby hits the deck to begin sucking Aden's cock. The sensations ebb and flow throughout the officer's body and soul and to keep things on an even keel, he reciprocates and goes down on his buddy. They quickly get into a 69 position where they continue sucking cock and then rimming ass. Bobby soon finds himself adrift in a sea of sexual bliss. Then Aden lowers the boom as he jams his dick up Bobby's rear. The studly CO is relentless with his ass assault; he knows he's got his chum over a barrel but he won't leave him high and dry. They fuck some more until they separate to jerk themselves to climax.