Summary:
Join award-winning director Tony Dimarco as he takes eight hung and horny hunks, including Falcon Exclusive Devin Franco, on this sun-soaked bareback, blockbuster adventure, Falcon Studios' first condom-free release in nearly 30 years.
Description / Review:
Scene 1: Myles Landon and Devin Franco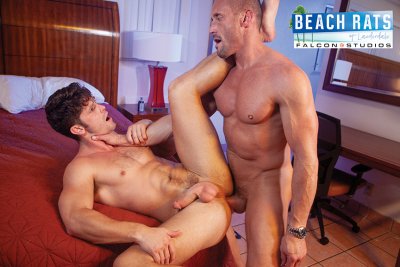 Devin Franco is chillin' by the beach when his buddies drop by looking for some weed. None of them have enough cash so they hatch a plan to roll a local hotel to get some money. After the heist, Devin is down on himself for being a part of the plan when he receives a text from muscle daddy Myles Landon and heads on over to his hotel for a quick fuck. The two meet with no words at all and Devin lies back on the bed while Myles pulls out his massive cock to cram it down Devin's eager throat. After face fucking the toned Beach Rat for a bit, Myles flips Devin over and shoves his tongue up his ass to open it up for his giant dick. When Myles has had enough of the foreplay, he slides his raw dick deep into Devin's ass. Devin receives the massive member with pleasure and loves the feeling of the muscle daddy pounding in and out of his hole. After throwing Devin around in multiple positions, Myles is ready to blow. He fucks Devin a little faster and drives a little deeper until he unleashes a geyser of cum all over Devin's hairy hole. Myles shoves his bare cock back inside and keeps Devin's ass full until Devin shoots a load of his own all over his muscled-up beach bod.
Scene 2: Manuel Skye and Roman Todd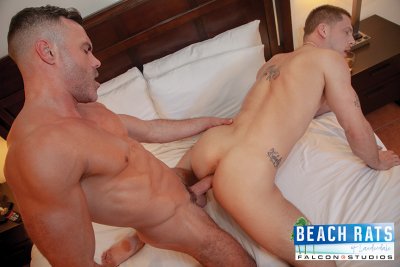 It's a windy, stormy night in Fort Lauderdale when dealer Manuel Skye joins Roman Todd in the hot tub. Roman's ready to make a transaction, but he wasn't expecting Manuel to put the moves on him and expect more than the cash. When Manuel takes Roman's cock in his mouth, Roman knows he's going to have to give it up to close the deal. The two studs move it to the bedroom where Roman takes over sucking on Manuel's thick, uncut dick. With Roman's lips wrapped around Manuel's cock, he takes it to the next level by bending the tatted bad boy over to rim his ass. Roman can't get enough of Manuel's dick in his mouth and the two 69 on the bed until Manuel is ready to fuck. Roman bends over to take every inch of Manuel's raw cock deep inside his body. It's a tight fit but Manuel manages to slide it all the way in. The hung stud plows away on Roman's hole bareback until Roman decides to sit on the big dick. Manuel keeps pumping hard as Roman sits and takes every inch from the horny stud. After planting his dick deep into Roman's ass, Manuel is ready to unload. He rolls Roman onto his back and plugs away until he fucks the cum out of Roman's throbbing cock. Manuel loves seeing Roman covered in cum and takes a taste of his customer's fresh jizz. With Roman's load on his tongue, Manuel pulls out to blast Roman's smooth hole and balls with a creamy load of his own. When all is said and done, Manuel licks up all of the remaining cum and finishes Roman off with a cum-filled kiss and a stash of weed.
Scene 3: Michael DelRay and Vadim Black
Michael Delray is skating down the Boulevard when he runs into Vadim Black hanging by the beach. The two buds head off to burn and soon one thing leads to another. Vadim makes the first move and reaches up Michael's tight shorts to feel his thick meaty hard-on. Michael doesn't waste a second and peels of his shorts to grant Vadim full access to his big cock. Vadim sucks it hard until Michael decides he wants a taste of his buddy. Michael gets on his knees to take Vadim down his throat. Rock hard, Vadim pulls out his phone to film this buddy sucking him off. After feeding Michael his cock, Vadim bends Michael over for a quick taste of his ass before he slides his big, bare pole deep into Michael and pumps hard, while he pumps him for info on where he got the weed.
Michael is horny as hell and takes over the work riding Vadim's dick. He rides it deep as his own hard cock flops up and down. Vadim wants to fuck Michael his way and flips the stud over onto his back and continues the raw fuck session until he makes Michael spill his load all over his own tight body. With Michael covered in pure white jizz, Vadim blasts off his own load. He pulls out and shoots thick ropes all over Michael's ass before he shoves his dick back inside to enjoy one last feel of Michael from the inside. With information spilled by Michael, does Vadim have more sinister plans?
Scene 4: Scott Demarco, Vadim Black, and Devin Franco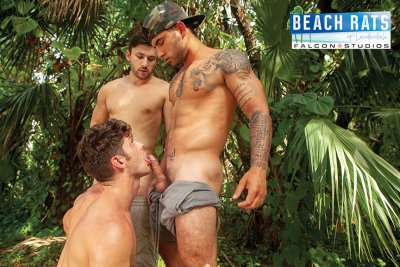 Vadim Black's pal, Scott Demarco, is cruising Devin Franco by the beach. When Scott walks away, Devin decides to follow him into the park. Scott rounds a corner to take off his clothes and by the time Devin catches up, Scott is already jacking his big hairy cock. Devin doesn't waste a second and gets on his knees in front of the hung stud to take Scott down his throat. Scott can't possibly get any harder and needs to see what Devin has throbbing in his pants. Scott isn't disappointed and drops down to worship Devin's hard-on. In the midst of sucking, Vadim Black comes down the trail to join the fun. He pulls out his dick and Scott gets to work sucking both hung studs simultaneously. Devin is cock-hungry and can't resist the temptation to take both cocks in his mouth. Scott knows that Devin wants the reward, so he stands up to let Devin take his place on his knees. Devin greedily sucks down both cocks, taking every inch of them down his throat. Both studs take turns fucking his face until they're ready to blow. Scott is the first to climax and drops a giant creamy load all over Devin's full lips and in his mouth. Devin gobbles it all up and moves onto Vadim's ready-to-burst cock. As Scott grabs Devin's backpack that's full of weed and runs down the trail, Vadim blasts Devin's face with cum. Just as Devin ready to blow his own load, Vadim takes off as well, but that doesn't stop Devin from blowing his load in the dirt. But, was this really a random hook-up after all?
Scene 5: JJ Knight and Devin Franco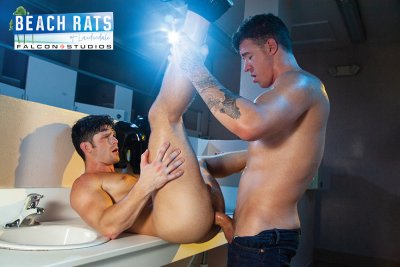 It's night time in Fort Lauderdale. Do you know where your weed is? Devin Franco has to admit to his buddies that he got rolled in the park and it doesn't go well. With nowhere to go and feeling deserted by his buddies, Devin rides his bike to a public restroom to drown his sorrows with big dick. When a car pulls up, he finds JJ Knight jacking off in the driver's seat. Devin can't resist JJ's monster cock and takes a quick taste. The two move the fun into the restroom where Devin continues his expert cock sucking. JJ plows Devin's face with his massive, raging hard-on and fingers his ass until both sweaty studs are ready to fuck. When JJ knows that Devin is ready for his raw, giant dick, he slips it deep into the panting hunk and quickly picks up the pace. As Devin gets slammed with his face in the sink, a random stranger enters and starts jacking off to the show. JJ wants to see the look on Devin's face as he's getting fucked bareback and gets the stud on his back. JJ keeps stretching Devin to the limits until he makes Devin blast a giant load all over himself. JJ takes his cue and dumps his load in Devin's ass before he fucks it deep inside. JJ isn't one to stick around after he's blown his load, and he takes off to let the stranger take over. Just as the random dude gets inside Devin's spent ass, the restroom door opens and suddenly Devin's fate is changed forever.