Summary:
From the minds and visions of some of the absolute best fuckers that gay porn has ever seen, 'Men's Briefs' on DVD delivers engaging stories and sexual fantasies directed and starring today's leading stars. Shot on location in the Big Apple and at THE Q NYC, this film sees A-list porn stars Max Konnor, Devin Franco, Leo Forte, and Boomer Banks stepping behind the camera to direct their own original short stories with the help of award-winning performer-turned-director Steve Cruz.
Description / Review:
Scene 1: Devin Franco and Eric Rey
All Devin Franco knows about his anonymous hookup is that he's hung, wearing a red hat, and supposedly somewhere in this club. So, when the horny jock spots Eric Rey, who just so happened to find a red cap on the ground moments ago, he pounces and starts rimming his hole in an abandoned part of the bar. Eric blows Devin's overly thick cock before bending over and letting the stranger bareback his handprint-covered bubble butt. A grunting Devin puts his bulging muscles to good use as he lifts Eric's entire body up and down onto his throbbing dick. Leaning on the wall as Devin hits it from the back, Eric nuts all over himself and the club floor. Soon after, a sweaty Devin is pulling out to cover the young hunk's bare ass in his liquid load.
Scene 2: Cade Maddox and Shae Reynolds
Twink Shae Reynolds has been seeing A-lister Cade Maddox and his fat bulge on every billboard in New York City and now the hung hunk is magically in the middle of his living room. Convinced that he must be dreaming, Shae gives in and goes down to suck off the famous fucker's massive cock. Cade pumps himself in and out of the boy's mouth before taking his experienced tongue to Shae's cheeks. With his ass wet and ready, Cade guides his girthy member into Shae's hairless hole. The room fills with the sound of Shae moaning and Cade's balls slapping loudly against Shae's taint as he continuously thrusts himself into the young man's hungry ass. After both men bust, the twinky bottom wakes up with a wet spot on his underwear and realizes that all the intense bareback action with the man of his dreams just existed in his dirty, hopeful mind.
Scene 3: Adrian Hart and Reign
When puppy dog Adrian Hart discovers that his pet sitter is muscle daddy Reign, he immediately starts fantasizing about his mouthwatering body. The dog dreams about transforming from a good boy to a real boy and taking Reign to pound town. In his fantasies, Adrian sees himself as a jock that's stroking his big dick while gagging on Reign's curved cock. Reign services Adrian's hard pole and pulsing hole before throwing the dog a boner and barebacking the young pup doggy style. The obedient Adrian has to stop himself from howling as Reign slaps his ass and passionately buries his bone in Adrian's tight backyard. A few more thrusts from the top's hot cock and the horny pup is busting all over his abs with Reign pulling out to spray him down only seconds later.
Scene 4: Colton Reece and Luke Truong
At a club and hoping to find "the one," Colton Reece comes across Luke Truong and immediately makes a connection with him. Colton swoops the young twink away to an empty back room where he strips him down and skulls fucks him with his hard cock. Luke continuously clings to a rogue stripper pole for support as he bends over for Colton to rim his hole and as he lowers himself onto Colton's big dick. With Luke yelping for more, Colton uses all his force to jackhammer his cock into Luke before pulling out to let the insatiable bottom suck him off and get a taste of his own ass. The top gets back to destroying Luke's hole until he's ready to cover his face in his creamy nut and then watch as Luke strokes out an impressive load of his own.
Scene 5: Tristan Hunter and Shane Cook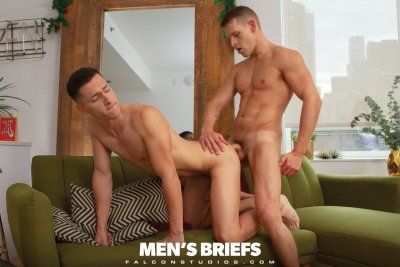 All Tristan Hunter wants for Christmas is to do something nice for boyfriend Shane Cook and fix the antique watch his grandfather gave him. Unfortunately for Tristan, he's flat broke and has to work overtime doing online cam shows for client Max Konnor in order to fully pay for the repairs. Things only get worse when an enraged Shane comes home to reveal that Max is actually his boss and he knows that Tristan's been filling up his hole with XXL dildos for random people on the internet. Tristan tries to explain that he only did it to afford Shane's watch repairs, but Shane tells his loving partner that he actually pawned the watch months ago to help Tristan's financial struggles. The two embrace for a passionate kiss before the muscular Shane unwraps Tristan's ass and starts rimming his smooth hole. Ready to take on Shane's thick dick, Tristan mounts his lover and rides his Yule log cock with a satisfied Shane moaning in amazement. The dick-hungry bottom strokes himself as Shane rapidly pumps his south pole in and out of Tristan's south hole. A few more bareback thrusts from Shane's girthy log has Tristan's dick blowing an oversized load with Shane pulling out to lay a fresh blanket of cum all over Tristan's holiday hole. Still holding each other, it's then that the two lovers realize the perfect gift that they can always give each other is free and only a few strokes away.