Summary:
'Naughty Pines 1' is the first satisfying part of Falcon's Fall Blockbuster, and it's filled with non-stop, man on man action.
Boyfriends Colt Rivers and Owen Michaels haven't had much excitement in their love life lately, so it comes as a total surprise to Colt when Owen whisks him away on a surprise weekend trip. Their destination: Naughty Pines, a private men's retreat nestled deep in the northern California mountains, where steamy hookups are as plentiful as trees in the forest. Presiding over Naughty Pines is owner Ryan Rose, with an ass that makes cocks as hard as the redwoods.
'Naughty Pines 1' delivers steaming hot men and explosive sex, with technical and artistic magnificence from award-winning director Tony Dimarco. Have a towel handy.
Scene 1: Ryan Rose and Zack Randall
In part one, Ryan gets horned up by the naked studs playing touch football in the yard, Ryan pulls Zack Randall inside his cabin for another body-contact sport.
Scene 2: Connor Maguire and Mike Gaite
Toweling off after a bracing outdoor shower, Connor Maguire tests his luck by walking to his tent with the towel over his shoulder rather than wrapped around his waist. He catches the eye of Mike Gaite, and they exchange a smile that makes Connor's big cock throb. Connor welcomes Mike in with a kiss and his hard dick. Mike strips and they lay with their bodies pressed together from lips to toes. A blow job gets Mike's nose buried in Connor's fiery red bush. A quick swivel gives Connor access to Mike's ass. From there, Mike only has to move a few inches to lodge Connor's cock deep in his ass. Connor works up a sweat that will require another shower as he and Mike blow their loads. Mike is eager to swallow the thick, white cum.
Scene 3: Brian Bonds and Chris Bines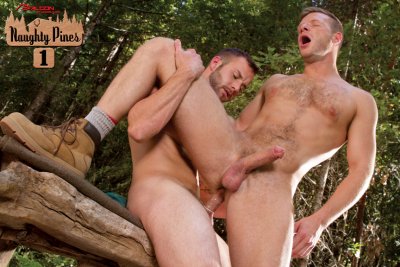 Brian Bonds set up camp in a secluded part of the forest, so when he awakes with morning wood, he begins what he thinks is a solo jerkoff. Lucky day: Chris Bines is hiking and spots Brian jacking off, so he walks over and helps himself to some cock. Chris uses one hand to guide Brian's dick and the other to roam the fur on Brian's chest. Brian stands and sheds his remaining clothes, then kneels to suck Chris in return, swallowing every inch of cock. Chris grunts, "Nice!" Brian ups the ante with a finger up Chris' hole while he sucks, then Brian asks to get fucked. Primed for hole relief, Brian sits on Chris' lap, one foot on the ground and the other on the table. He pinches his nipples and tells Chris, "Jack my dick!" Chris works Brian's dick until thick waves of cum roll down the shaft and drip to the forest floor. Brian stays hard, so he continues to ride Chris' pole, stroking himself to a second climax. Still Brian's cock demands more: he grabs Chris and fucks him until it's Chris' turn to unload the wad his nuts have churned up. Just wait 'til you see what the finish has to offer.
Scene 4: Colt Rivers and Luke Adams
Getting caught with your hard on in your fist makes it awkward to say no when a hot guy offers to join in. That's no problem for Colt Rivers, who's caught full-handed in the woods by Luke Adams. Colt lets Luke take over his cock and uses his freed-up hands to strip. The sounds of cock sucking rise. Luke delivers a robust face-fucking that makes Colt choke. Then full-speed ahead as the two hard-muscled guys drop to the ground: tongues burrow into asses and cocks probe into mouths. Colt's hips flex and he cries out, driving his cock deep into Luke's throat in the throes of orgasm. What Luke doesn't swallow he permits to roll over Colt's shaft and balls. His own cock primed to shoot, Luke grabs Colt's head and unloads an explosion of cum on Colt's face
Scene 5: Sean Zevran and Luke Adams
At night, the white fabric of a tent that's lit up from the inside reveals silhouettes of all the action going down: Sean Zevran and Luke Adams abandoned the communal campfire to kindle their own flame. The next morning, Sean's dick is still hard for Luke. Luke puts his mouth to work again on the fat uncut cock he serviced the night before. Every so often, Sean pulls Luke up to suck his own precum off Luke's lips. Luke fucks Sean's mouth; Sean buries his face between the hard, muscular cheeks of Luke's ass. Sean signals his intentions by teasing the crack of Luke's ass with his cock. Luke's desire to be fucked is met with deep penetration, doggy style. Luke spreads his hole wider, collapsing as Sean drills him into the bed. Vibrations rock Luke's entire body as his cock begins to erupt. Sean intensifies the speed and depth of his pounding, pulling his cock out at the last minute to release an avalanche of white cum across Luke's torso.