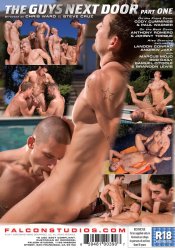 See also:
The Guys Next Door part 2


Summary:
Falcon Studios presents the most spectacular cast in Part 1 of the Blockbuster, Two-Part Porn Event of the Year! This 100% Stud-Filled Exclusive Collaboration between Falcon Studios and Next Door Studios, is directed by award winners, Chris Ward and Steve Cruz, who keep the focus on the steamy sex. These grade-A+ stars are all staying at a sexy getaway, and you get a front row view of the serious action that takes place there. If these guys lived next door to you, you would want to stay home all day and watch to see what fiery action takes place next. This is the biggest all-megastar cast ever assembled, providing you with hours of pleasure.
Description / Review:
Scene 1: Paul Wagner, Samuel O'Toole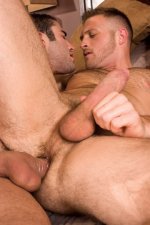 Samuel O'Toole emerges from a swim in the pool, naked. His muscled body shining with a coat of water until he towels off in the sunlight before returning inside to find Paul Wagner on his bed stroking his meat. Samuel takes his cue and immediately goes down on Paul's thick nicely veined pole. Paul's a ruggedly handsome beefy man with a light dusting of hair that projects 100% masculinity. Paired with Samuel's macho sexiness, this duo is one anyone would like to get in the middle of. Samuel really knows how to suck cock and also enjoys letting Paul fuck his mouth. Paul let's out the sexiest manly grunts and groans as Samuel services him, but Paul likes a hot cock too and quickly has his amazing lips wrapped around Samuel's tool — an equally thick dick that Paul slurps up with gusto as he stokes his meat. Paul is really working Samuel over, but Samuel hasn't had his fill of Paul's piece yet. He lays on his side and sets one of the hottest 69's ever filmed into motion — two of the hottest men on the planet simultaneously swallowing each other's cocks until they come up to kiss feverishly. Now it's time: Paul is ready to take that huge tool of Samuel's up his ass. Laying on his back with one leg in the air, Paul gives Samuel a perfect target for massive meat, and Samuel aims and drives it in deep his pelvis writhing and sending jolts or pleasure through Paul's entire body. On his back and spread wide to take every inch, Paul fully gives himself over to Samuel's cock, and Samuel takes the opportunity to pound every last inch deep into Paul. Samuel's round ass flexes with every thrust producing hot moans from Paul. The action is so intense that both studs shine with sweat until the heat of the moment sends Samuel over the top. He pulls his meat out and shoots a load onto Paul's stomach.
Scene 2: Rod Daily, Landon Conrad, Paul Wagner, Marcus Mojo, Cody Cummings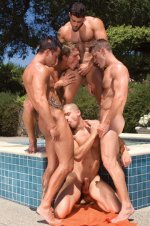 Tanned and stunning, Cody Cummings in all his ripped glory is standing by the hot tub handling his cock, begging for it to be taken by someone else. Cody, a beefy and sculpted stud, is shining under the sun and his rugged, handsome good looks attract Anthony Romero's hot lips. Anthony, fully naked and hard at the sight of Cody, approaches and immediately wraps his mouth around Cody's tool. He works it well as Cody enjoys the attention, but this twosome has caught the eye of another onlooker, Johnny Torque, who can't resist joining in. He's takes his cue to go down on Anthony while Anthony works Cody over. Johnny is gulping down Anthony's cock repeatedly as Cody fucks Anthony's mouth. Rising up, Johnny helps Anthony please Cody by taking turns on the big man's massive meat. Back and forth they take Cody's cock the other licking his balls and feeling his tightly muscled body. Cody is loving the attention as he pulls each hot stud's head onto his cock moaning in appreciation of the service they're giving him. Paul Wagner takes notice of what's going on outside and emerges from his room to join in the cocksucking festival. As he throats Cody, Anthony and Johnny take turns going down on Paul's thick meat. Not to be left out, Marcus Mojo has joined in on this oral orgy with each mouth taking Cody's tool deeper than the next. Paul massages Cody's thighs and chest as Marcus sucks and then takes the dick again in his mouth when Marcus lets it slip out of his. With Paul sucking, Marcus licks on Cody's balls and takes them both in his mouth to please the stud. Paul and Marcus make out and work Cody's cock between kisses. If four of the hottest men on Cody's cock wasn't enough, Landon Conrad joins the mix, taking a little solo time with Cody. While Landon slurps at the huge pole, streams of saliva drop down. Rod Daily wants part of the action too, and he joins Landon. They both take turns working Cody's meat, and Anthony returns to suck on both studs who are servicing Cody. The grunts and groans louden, calling Marcus and Johnny back to the scene. Now six studs are all working Cody's pole and each other's. This gang of seven feverishly tend to each other with raw sexual energy. Finally the frenzy builds to a crescendo as all six guys shoot one after the other, leaving only Cody to blast one huge final load.
Scene 3: Johnny Torque, Anthony Romero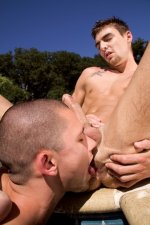 Johnny Torque and Anthony Romero are both visions in a pool of sparkling water on a hot day. They are taking an afternoon swim which leads to some heavy making out under a stream of water that feeds the pool. Their ferocious kissing gets the water boiling hot and Anthony wraps his legs around Johnny's waist. After their make out swim, they lay out in the sun for a bit, but soon they're both naked getting ready to continue where they left off in the pool. Both have striking looks, great asses and huge cocks. Tugging on Anthony's balls, Johnny swallows Anthony again and again, gulping away. Now it's Johnny's turn to get oral service. His cock is pumped up to full hardness, and Anthony can't get enough of the hot rod attached to Johnny. Swallowing the perfectly shaped shaft to its base, Anthony allows Johnny to guide his head down the pole again and again. With Anthony in the tub, Johnny sits on the ledge and spreads his legs allowing a perfect view of his tight eager hole, which Anthony tends to along with Johnny's balls. After some serious rimming, Anthony wants his hole services and he bends over the edge of the hot tub offering his round Latin bubble butt to Johnny, and Johnny doesn't disappoint, getting to business immediately slamming his huge cock deep into Anthony over and over with the sunlight beaming down on the duo. Anthony's face tells the whole story as he smiles while Johnny slams into him relentlessly, then he lays on his back while Johnny delivers his Torque, the power behind each pound sending moans out of Romero, who is now jerking his cock almost as fast as Johnny delivers cock into the hot hole. This is a long fucking session that culminates with Johnny and Anthony jerking off side by side with an upward view as they both shoot huge loads.
Scene 4: Andrew Jakk, Johnny Torque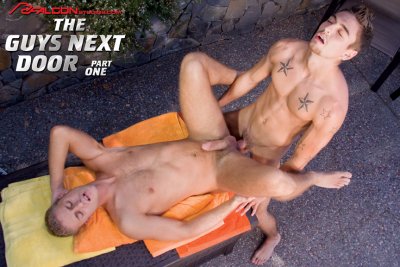 Johnny Torque is sitting on the steps stroking himself, pulling his cock out of the leg hole of his board shorts. Johnny is pawing his long thick meat to full staff. It's not long before Andrew Jakk chances by and wants a taste. Andrew, a slim hot blond is quickly on his knees licking and sucking on Johnny, who gets out of his clothes and removes Andrew's tank. Johnny pulls Andrew's head down on his rock-hard cock, spreading his legs to give a view of his hole. After Johnny comes up to kiss Andrew, he goes down on his knees and pulls down Andrew's shorts so he can return the cock sucking favor, loading Andrew's cock up with spit, and sliding down the pole. They kiss again, and then Andrew puts himself in position to take Johnny's cock in his tight hole. Standing behind Andrew, Johnny grabs onto his shoulders and starts to pound away at the hot blond who lets out moans and grunts of approval with each stroke. Johnny doesn't stop, he's got insane stamina and pounds away like a jackhammer filling Andrew's hole with a unrelenting serving of cock. Johnny wants more of this ass and places Andrew on his back, legs in the air, getting leverage and commencing with the rhythmic delivery again. Johnny jerks Andrews cock in time with his continuous probing, then pulls his cock out and reinserts it repeatedly to see Andrew's stretched hole. After Andrew shoots his load, Johnny gets so excited that he blasts a load well over Andrew's head, in what could be the furthest shot of cum to blast out of a man on film ever.
Scene 5: Brandon Lewis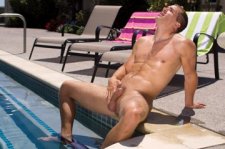 The handsome guy next door, Brandon Lewis is sitting next to the pool in his underwear rubbing his chest. Fresh from a swim he's glistening and his woody is pitching a tent, which he strokes underneath his underwear , but it's not long before he pulls his stick out to play with it out in the open. He jacks himself and pulls his underwear down giving a full few of his balls and hole. His dick is rock hard and he handles it well. His hot thick meat is fully at attention and begging to be stroked, needing to cool down from all this hotness he dips in the pool and strokes, splashing his cock in the water. On all fours, he works his cock and reaches back to tease his hole, giving a full view of his stunning round ass. Brandon pulls a cheek back to show off his tight manhole. The ass play gets him really worked up into frenzy and jerking harder until his cock spits out a hot load on his towel.
Additional Information
Categories: UK R18 / XXX Gay Adult,
Running Time: 143 mins, Year: 2012
Starring: Cody Cummings, Paul Wagner, Andrew Jakk, Anthony Romero, Brandon Lewis, Johnny Torque, Landon Conrad, Marcus Mojo, Rod Daily, Samuel O'Toole
Price: Around £29*
Director: Chris Ward, Steve Cruz
Studio: Falcon Studios
Buy DVDs online at: Simply-Adult.com, Homoactive and Radvideo (USA)
Gay Video On Demand: Falcon Studios, Mustang Studios, Jocks, Falcon Str8Men, See also: www.gayvod.co.uk
Member site: Falcon Studios
Country: USA, Language: English
Additional info: No Regional Coding