Summary:
The snug wet fabric is stretched skintight across their loins, looking deliciously indecent and highlighting every manly detail of their barely concealed treasures. Watch this cast of eight shed their drenched briefs and willingly go down to drown in sizzling pools of manflesh.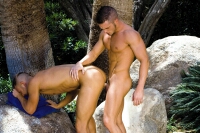 Scene 1: Couple Aden and Jordan Jaric continue their narrative finding more romance under the sheltering canopy of lush palm trees. They drench each another with cool water making their tight wet briefs exaggerate their baskets. They look huge and naughtily delicious. Aden reaches inside and pulls Jordan's cock out to suck on it. Then he tongue fucks the tasty cleft deep between those peachy asscheeks. They reverse roles so Jordan can pay oral homage to Aden's majestic staff and also probe his hole with the tip of his flickering tongue. Aden then gets behind his partner to screw his asscrack, each forceful thrust an affirmation of his enduring devotion. The guys switch it up again so Jordan can take his turn plowing Aden's love tunnel. They both finally climax, drenching each other with steamy manjuice. (See also: The Best of Aden and Jordan Jaric)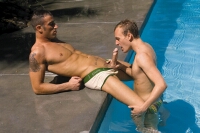 Scene 2: A brisk swim in the pool renders both Spencer Reed and Heath Anthony jazzed up and eager to get things going. Spencer leans back against the side of the pool, posed like a macho siren, luring his enthusiastic admirer to a fulfilling fate. Heath hungrily licks Spencer's pierced nipples and plants kisses on his plump lips. Then the big bruiser pulls himself up, sitting on the pool's edge, his horsedick coyly showcased inside his wet briefs. Heath takes the meaty slab out and wraps his lips around its mushroom tip and slides his mouth up and down the entire shaft. They get more comfortable on a chaise and start to 69, swallowing each other's dicks down to the base. Heath buries his face in Spencer's ass, tonguing the wrinkled hole. Then he mounts Spencer's pole and takes off on an ass-splitting ride. He next lays down on his back and Spencer continues pummeling his hole, driving as far inside as he can. They finish off, jerking their cocks to explosive climax.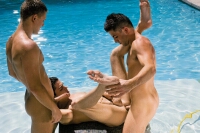 Scene 3: T.J. Hawke looks like a muscly water sprite caught lounging at the end of the pristine pool, relaxed and carefree. Bobby Clark swims up to the exotic sea creature and drowns him with soulful kisses. Their snug wet underwear soon slide down off their hips, exposing two magnificent love muscles. Bobby dives onto T.J.'s dick to suck away, savoring each lap of that tasty piece of meat. T.J. quickly returns the favor, sending Bobby over the moon. Turk Mason quietly walks in, looking just as hungry and eager, and immediately joins in. He starts to service both jocks, his head swiveling from left to right, engulfing the two dicks. Then T.J. stands up so Bobby can suck his dick. Turk gets behind Bobby and he eats out his hole. They continue sucking and rimming before T.J. and Bobby tag-team and work Turk over, plugging him from both ends. Ready to explode, they stroke themselves off until all three finally climax and cum.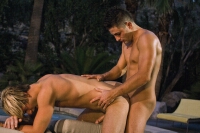 Scene 4: T.J. Hawke finds babe-alicious Jason Pitt at the end of the pool, looking petulant and desirable, so hungry and wanton. They kiss passionately before TJ stuffs his dick into Jason's mouth. Then he bends over so the blond can jab his pointed tongue inside to tease and tickle his ass crack. Soon it's TJ's turn to feed and he eagerly gobbles up Jason's cock with gusto. Having eased the young waif into the dizzying throes of pleasure, T.J. then sinks his dick into Jason's puckered sphincter and fucks him hard. They gyrate and pivot into every conceivable position so that TJ's cock can really plunge the depths of his partner's hole. The pile-driving is relentless and Jason ends up jacking himself off to heighten the buzz he's feeling. The action only stops when both T.J. and Jason let go and spooge all over, satisfied and relaxed as the cool waters continue to churn all around them.
---

See Falcon Studios The Best Of TJ Hawke which features scene 2 from this title.
'See what makes TJ Hawke a true Falcon Legend in The Best of TJ Hawke. Nine scorching hot, full-length scenes from some of Falcon's greatest titles of all time make this collection a must own'.


You might be interested in The Best of Aden and Jordan Jaric which features scene 1 from the title.
The Best of Aden and Jordan Jaric
See what makes Falcon's exclusive couple Aden and Jordan Jaric true Falcon Legends as they star in nine scorching hot full-length scenes from some of Falcon's greatest titles of all time, making The Best Of Aden & Jordan Jaric a must own.