Summary:
Roughin' it in the great outdoors, our 9 studly campers prove they're not mere babes in the woods. There's something about roughin' it in the wilderness that brings out the grizzly beast in real men!
Description / Review:
There's something about roughin' it in the wilderness that brings out the grizzly beast in real men. Pitchin' a tent or pitchin' woo, the campground is on fire, especially for one lucky adventurer whose virgin territory will soon be ravaged and laid to waste.

Scene 1: Conner O'Reily, Trevor Knight, and Jake Woods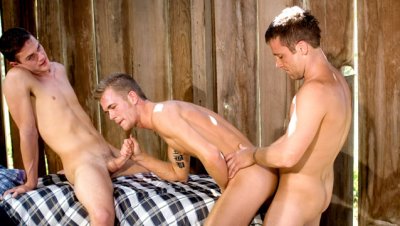 Feeling adventurous, Trevor Knight decides to check out the campgrounds. He stumbles upon a barn and sees that the chickens have come home to roost. Well, not real chickens but two young jocks caught nesting in the hay. Jake Woods is busy sucking off Conner O'Reily - and Trevor, being up for a cockfight, quickly joins in. Before long he has his new friends bent over so he can tongue their tight assholes. Jake then positions himself between Conner and Trevor, chugging one dick down his throat while getting the other one rammed up his hole. Conner follows suit and takes his turn getting screwed at both ends. Egged on by Trevor, Conner takes a whack at Jake's crack, ramming his dick far inside. Trevor takes over and fucks Jake who can barely contain himself as he shoots his wad. He and Conner then alternate sucking Trevor's cock, licking his balls, and jerking him off until he explodes. Then Conner clamps both hands around his cock and jacks himself off 'til he finally cums.
Scene 2: Nash Lawler and Ty Colt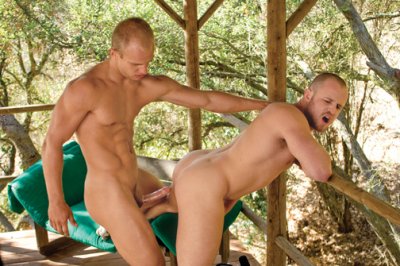 While out on a jog, Nash Lawler sprains his ankle. He gratefully welcomes Ty Colt's assistance to head back home and calls for some help. Once settled, he begins to relax as Ty lavishes him with attention. The soothing massages evolve into more intense TLC with Ty soon nursing on his patient's dick. Nash is quick to repay his savior's ministrations and gobbles up Ty's hard cock. Then he stretches Ty's butt cheeks apart and jams his tongue inside the hole. Feeling so indebted and even horny, Nash lays back, spreads his legs and surrenders his virgin asshole to the good Samaritan. Ty kisses and teases the as-of-yet-unclaimed treasure and then tenderly, slowly slides his dick inside. He pumps it in and out gently and then, encouraged by Nash's plaintive pleas for mercy, drives in faster, harder, deeper. Both men are delirious with ecstasy as they share this cherry-splitting experience. Sitting side by side, they jerk themselves off until they both shoot their loads.
Scene 3: Leo Giamani and Skyler Caine
Looking for the perfect fishing hole to cast his line in, Leo Giamani scores a better catch instead - the winsome Skyler Caine who's ready to bite. The enthusiastic cocky boy greets the horny angler with an intense blow job. He clamps his lips around Leo's thick rod and his head starts to bob up and down as he swallows it whole. Then it's Leo's turn to go down for a healthy helping of his buddy's dick. Skyler follows up by diving full face into Leo's butt crack, his tongue darting in and out of the fuzzy cleft like a frenzied minnow looking to bury itself in a safe place. Then laying on his back, Skyler spreads his legs, his pinched asshole exposed and ready to take in some big tackle. Leo sounds the depths of Skyler's hole and slams his pole inside. He pumps furiously, then pulls out and showers Skyler's with his cum. Satisfied and spent, he watches Skyler as he jerks himself off and finishes with a flurry of spooge.
Scene 4: Tony Capucci and Trent Davis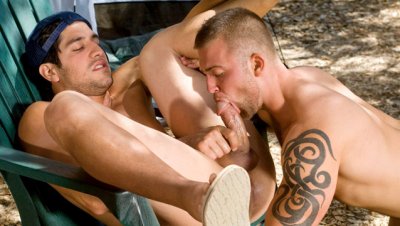 Tony Capucci finds himself stranded buck naked in the woods. With nothing but his baseball cap to cover up his man bits, he heads back to the cabin. He winds up at a neighboring campsite, surprising Trent Davis and asks for a pair of shorts. Trent's no fool and barters with the buffed wildebeest. Tony promises the happy camper he'll give him the "fuck of his life" in return. Trent is down on his knees, tasting every scrumptious inch of Tony's wiener. And like the good dirty boy he is, he rims his visitor's asshole, making him pant with pleasure. Then Trent climbs aboard Tony's lap, lowers himself onto the big man's big stick, and bucks up and down. He gets fucked sideways, from behind, on his back with his ankles up around Tony's neck - no matter what position, the sensations are thrilling. Trent jerks himself off excitedly and cums. Then Tony pulls out and shoots his load across Trent's bubble butt, leaving a mess but earning himself a pair of shorts to get back home in.