Summary:
Take a 'Desert Getaway' with the stunning men of Falcon as they navigate the beautiful vistas near Joshua Tree National Park and explore each other in this mega-hot sexual adventure. The landscape removes all distractions and provides a backdrop for these horny studs to focus on each other's ripped bodies, hard cocks and willing asses. Director Nick Foxx crafts a scorching story of a remote retreat that turns into an explosion of sexuality in 'Desert Getaway'.
Description / Review:

Scene 1: Jacob Peterson and Jonah Fontana


First to arrive at their 'Desert Getaway' locked rental house, handsome Jacob Peterson and sexy Jonah Fontana have an hour to kill while they wait for their friends to arrive with the keys. Their attraction for each other is clear and with time on their hands, they don't waste a minute. With the beautiful desert landscape as their backdrop, Jacob Peterson and Jonah Fontana press their lips together in a passionate kiss and fall back onto the outdoor lounge chair. Jonah peels off Jacob's shirt, revealing ripped, washboard abs, and then undoes Jacob's fly. Jacob's thick, uncut cock springs to attention, and Jonah wraps his lips around Jacob's meaty tool.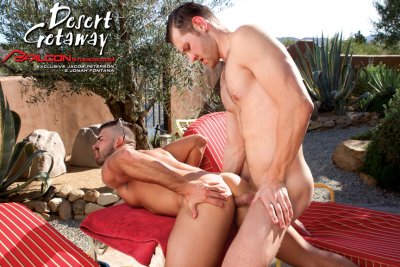 The two strip naked under the hot desert sun, and Jonah plants his scruffy face into Jacob's crack. After lubing up Jacob's ass with spit, Jonah slaps his dick across Jacob's butt, then inches his shaft inside his hole. With Jonah pounding away, Jacob's balls sway and his giant cock bounces with each satisfying thrust. Ready to switch it up, Jonah gets on his back and invites Jacob to hit it. Jacob spreads Jonah's legs wide for a deep, sensual penetration. Jonah savors every minute of it, and jerks his big cock in time with Jacob's thrusting. A move to doggy style lets both studs show off their tight muscle while they fuck with abandon. Jonah reclines back to receive a massive facial from Jacob, the thick, white cum dripping down his bearded chin. Jonah jerks out his own load onto his washboard stomach, and the two share a final kiss in the fading desert light.
Scene 2: Ryan Rose and Gabriel Cross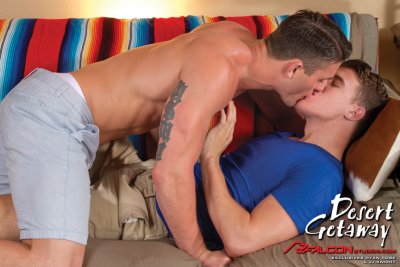 After a bit of flirting, spunky Gabriel Cross and hunky Ryan Rose decide to take a nice long hike through the breathtaking scenery of Joshua Tree. Gabriel takes some pictures, and Ryan, who loves showing off for the camera, immediately gets hard. They beat it back to the vacation house where they strip down and make out in the outdoor shower. Gabriel's muscled frame only reaches to Ryan's shoulders, but their cocks are equally hefty. They soap up and stroke each other's throbbing meat as they press their lips together. Gabriel gets down on his knees to work his oral prowess on Ryan's rod, lapping at the head with his tongue and swallowing deep down to Ryan's balls. Returning the favor, Ryan drenches Gabriel's cock with spit and deep throats the shaft. Bending over, Gabriel spreads his ass cheeks so Ryan can get in deep with his tongue. With some spit for lube, Ryan presses his cock into Gabriel's hole until he penetrates the hot ass. As Ryan ramps up his thrusting, Gabriel's thick meat swings in the air. Ryan sits back in a chair, his dick aimed at the open sky, and in an impressive display of power bottoming, Gabriel sits down on Ryan's meat while stroking his own enormous cock. With Ryan about to cum, Gabriel gets down on the floor and takes Ryan's load in his mouth. Leaning back, Gabriel releases creamy blasts that drench his massive thighs.
Scene 3: Ryan Rose and JJ Knight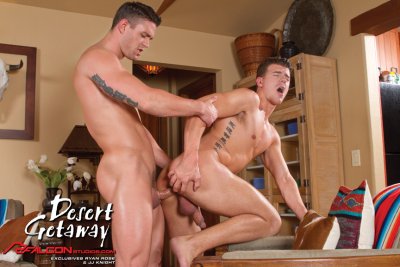 Dustin Holloway and Paul Cannon have been making eyes at each other all weekend, but so far they haven't acted on it. As they strip down to their white briefs and step into the hot tub, they trade a knowing glance. Their feet touch at the bottom of the spa, and their cocks swell in their wet briefs. Paul, with his dirty-blond hair slicked back, leans in and locks lips with dark-haired Dustin. Pulling down Paul's briefs, Dustin unleashes Paul's rock-hard cock and deepthroats the entire shaft. Relaxing into the depths of the hot tub, Paul enjoys an underwater blowjob as Dustin relentlessly services Paul's throbbing meat. Dustin, emerging from the water, spreads his ass for a thorough rimming. Rising up, Paul rubs his cock in the groove of Dustin's perfect ass, and Dustin is eager to take things to the next level. Exiting the tub, Paul lies down on an outdoor lounge chair and Dustin straddles him. Lowering himself down, Dustin sits on Paul's cock and goes for a wild ride. Paul's huge balls, hanging low in the summer heat, rise and fall as his body throbs with sexual excitement. Flipping to missionary position, Paul grabs Dustin's cock while simultaneously fucking his hole, and the sensation brings Dustin to climax, drenching his stomach in puddles of semen. Paul then fires off rope after rope of cum, shooting all the way up to Dustin's shoulders in a spectacular orgasm.
Scene 4: Gabriel Cross and Derek Bolt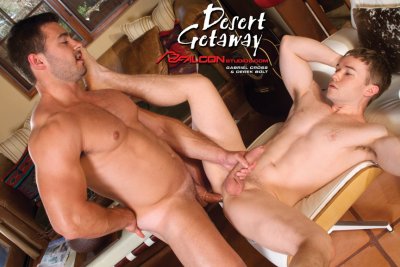 While the other adventurers at this 'Desert Getaway' are out enjoying a hike, Gabriel Cross comes back to the house early to find Derek Bolt all by himself. Feeling a bit shy and intimidated around so many hot, new guys, Derek had stayed behind instead of joining the other friends on the hike. Lucky for him, Gabriel is eager to make Derek feel included. They press their jacked bodies together on the couch and worship each other's muscles. Gabriel tongues Derek's nipple, then goes south and wraps his lips around Derek's huge dick. Derek gets down and sucks on Gabriel's massive, uncut tool. Bending over on a leather chair, Gabriel opens up his ass for a deep tonguing. After working Gabriel's ass and dick with his mouth, Derek slams his throbbing meat inside Gabriel's tight hole. Putting his arms behind his head, Gabriel's entire body is rocked with the power of Derek's thrusts. With their two huge dicks and perfect bubble buts, a flip flop is definitely in order: Gabriel pounds Derek doggy style, driving his meat deep into Derek's hole. They flip again, this time with Gabriel riding Derek's cock from above. In a surprise move, Derek stands and holds Gabriel aloft while fucking him; it's as if Gabriel is getting fucked in an invisible sling. Returning to cowboy position, the intense penetration gets Gabriel off, shooting giant globs of cum across Derek's chest. Going down again, Gabriel gets Derek off with just his mouth. Opening his lips, Gabriel lets the cum dribble down Derek's dick.
Scene 5: Sebastian Kross and JJ Knight


After a hike through scenic Joshua Trees, Sebastian Kross and JJ Knight return to the vacation house and head to the secluded back patio. JJ rubs his hands on ...
Additional Information
Categories: UK R18 / XXX Gay Adult,
Running Time: 106 mins, Year 2016
Price: Around £29*
Starring: Ryan Rose, JJ Knight, Sebastian Kross, Jacob Peterson, Jonah Fontana, Gabriel Cross, Derek Bolt
Director: Jett Blakk
Studio: Falcon Studios (Falcon Pacs 150 onwards (2003 -date)
Buy DVDs online at: Homoactive, Simply-Adult.com, RadVideo (USA) & TLAVideo (USA)
Gay Video On Demand / Downloads: Falcon Studios, See also: www.gayvod.co.uk
Member site: Falcon Studios
Country: USA, Language: English
Additional info: No Regional Coding