Summary:
The sexy Falcon studs in Moving Up are making a move on the objects of their sexual desires in a penthouse condo overlooking the desert. The stunning men of Moving Up are going down and getting fucked by each other in director Bruno Bond's all-sex fuckathon. These guys have the bodies, they have the right moves, they have the desire and they have the room with a view. All that's missing is a voyeur with high-powered binoculars looking in from afar, or you, for whom they are putting on the hottest sexual show.
Scene 1: Theo Ford and Brent Corrigan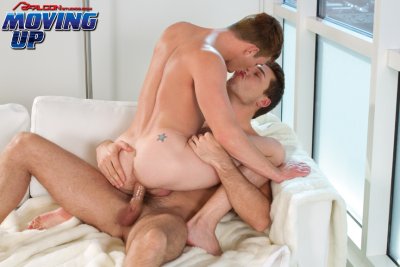 Brent Corrigan wears little but his mischievous smile at the sight of Theo Ford's massive uncut boner. They're making out on the couch, rubbing their cocks together erotically. Brent grabs Theo's cock and aims it at his mouth. Theo's furred torso rises and falls as he feeds Brent more cock and fingers Brent's prize-winning bubble-butt. They trade off: Brent fucking Theo's face and Theo rimming Brent's famous hole. When he's ready to be fucked, Brent slides backwards, where a hard cock waits to invade his warm, wet center. They're bathed in bright sunlight, pouring through expansive windows that offer broad vistas of the city below and invite thoughts of voyeurs. Brent's hole takes on its deepest and most pleasurable pounding when he's on his back, with Theo gripping his ankles to spread Brent's legs to their utmost, leaning in every now and then to steal a kiss. Suddenly Brent's nuts pull up tight in their sack and his cock discharges volleys of hot cream across his smooth torso. Theo pulls his cock out and matches him squirt for squirt.
Scene 2: Darius Ferdynand and Andrea Suarez

Darius Ferdynand gets a piece of Andrea Suarez' slim hips and swimmer's bod.
Scene 3: Theo Ford and Brenner Bolton
Theo comes back for more with handsome Brenner Bolton, who gets his hungry holes filled with Theo's huge cock.
Scene 4: Darius Ferdynand and Owen Michaels

Darius returns with muscled Owen Michaels in a flip-fuck that ends in a mutual jerk off where they shoot their loads at each other.
Scene 5: Theo Ford and Andrea Suarez

Theo brings his talented mouth and amazing dick one more time for a final scene where he chows down on Andrea for an all-oral tryst in which Andrea sucks Theo like he's never pleasured a man before.
In Moving Up, the action is as hot as the desert sun streaming through the windows and it's all for you!