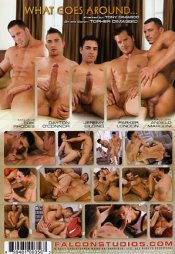 The gorgeous Topher DiMaggio also appear in the following gay DVDs:

Summary:
The landscape of gay relationships in San Francisco is as diverse as its people and sex is easy to find and even monogamous boyfriends are constantly tempted to feed their sexual hungers, but remember - What Goes Around...
Scene 1: Erik Rhodes, Angelo Marconi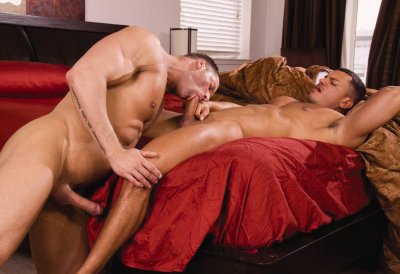 Angelo arrives home to find clothes all over the floor and his boyfriend Erik Rhodes fresh from the shower. 'What happened here'? Angelo asks. Erik deflects the question by telling him how happy he is to see him and how he wants to get down to business. Erik leaves no time for talking, making out with his boyfriend and pushing Angelo's mouth down to his hard cut cock. Angelo forgets all about the strewn clothes with the massive meat in his face; gulping and gagging on it and finally soaking it with his saliva. Erik fucks Angelo throat like a pro, then pushes Angelo onto the bed, working over Angelo's cock and ass with his wet mouth. Erik readies Angelo's hole for his thick cock and plunges his man meat deep inside the bubbled ass. Erik pounds Angelo's hole like a fuck machine. Erik then positions Angelo on all fours and slams him from behind, pounding deeper and harder until gobs of milky white cum soak Angelo's leg and sheets. Erik pulls out and dumps his hot man juice all over Angelo's back. The two collapse on the bed and fall into 'Une Petite Mort'. What goes around... cum's around...

Scene 2: Parker London, Topher DiMaggio
Also available: The Best Of Topher DiMaggio (Compilation)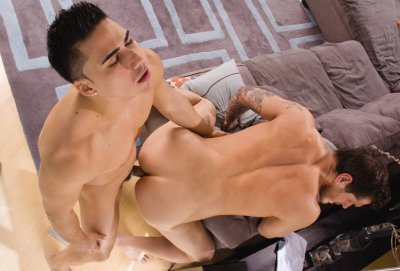 The following day Topher wakes up to find his boyfriend has already left for work. Topher begins to search the Internet for a job, but it doesn't take long before he searching for cock. Topher logs on to his favorite hook-up site, and finds a trick quick. In moments, Parker London is knocking at his door. Upon entering, Topher gets right to business pushing Parker up against the window and swapping spit with the stud. Topher is horned up working the stud over and can't wait to get his hard cock in his mouth. Being the insatiable cocksucker he is, Topher devours Parker's bone, sucking like there's no tomorrow, or until his boyfriend comes home. The intensity builds, and soon Parker is on his knees opening his mouth wide for Topher's tool. Parker sucks so deep that his nose is buried in Topher's pubes. Topher plunges his cock deep down Parker's throat, but it's another hole he really wants. Maneuvering Parker over the end of the sofa, Topher probes his dick deep into Parker who moans with appreciation. Topher bangs the stud good hitting a rhythmic stride, grabbing onto Parker and pounding his beefy ass well. Topher flips Parker over for a better angle. Closing in on the homestretch, Topher fucks with fury until they both explode ecstatically.

Scene 3: Jeremy Bilding, Parker London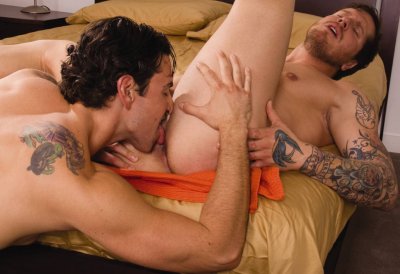 Jeremy Bilding is enjoying his morning coffee on a sunny day in the Castro when Parker London catches his eye. Parker, has more than coffee in mind, when he walks up and starts a conversation with the stud. Before you can say 'pick-up', Parker lures Jeremy to his apartment and has his lips wrapped around Jeremy's large piece of meat. Parker savors the taste of Jeremy's cock drenching it with spit, he deep throats it, jerks it and sucks it with an insatiable hunger. Switching off, Jeremy devours Parker's pole allowing it to hit the back of his throat. Before Parker knows it, Jeremy's got him on his back with his legs up revealing Parker's meaty ass and sweet hole. Jeremy plunges in deep with his tongue savoring the musty manhole. Jeremy rims him so well that Parker is soon begging for cock to satisfy his eager hole. Jeremy wastes no time and plunges it in deeply. After plowing Parker for a bit, Jeremy gets on his back so Parker can take a ride on his meat stick. Parker mounts Jeremy and rides his cock deep and hard. Taking the reins back, Jeremy flips Parker onto his back and pushes his leg back over Parker's head so he can plow even deeper. Parker takes it like a man, and loves it. Jeremy steadily pounds Parker hole mercilessly until Parker shoots a hot load all over his sweat-covered body, pushing Jeremy over the edge and causing him to spew his man milk.
Scene 4: Topher DiMaggio, Dayton O'Connor
Also available: The Best Of Topher DiMaggio (Compilation)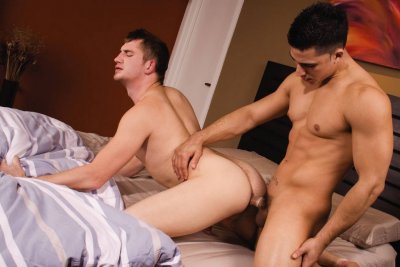 Dayton O'Connor awakes from 'Une Petite Mort', the deep sleep that follows an intense sexual tryst. He wakes next to sleeping giant Erik Rhodes. Getting up, Dayton quietly gathers his clothes, leaves Erik's place and walks down a flight of stairs to enter the apartment he shares with his boyfriend. Dayton's boyfriend Topher DiMaggio is cooking him dinner. Dayton kisses Topher's neck and runs off to take a shower. Topher is horned up and wants to get busy, because he's been home alone all day. Dayton complies, taking Topher hard cock in his mouth and swallowing it to the base. Topher grabs the back of Dayton's head and eases his cock in and out of Dayton's mouth. Picking up the pace of his thrust, Topher begins to fuck Dayton's greedy mouth. Topher pushes Dayton back onto the bed and feeds on Dayton's cock, slopping all over Dayton's meat, working up to a frenzied pace and inspiring him to moan in ecstasy. Topher flips Dayton over exposing his eager ass. Topher pushes deep into Dayton – doggy style, slamming his boyfriend's hole, and Dayton pushes back for more. Topher gets on his back and in no time, Dayton is riding his cock like a bucking bronco. Dayton loves to get fucked, he wants more and Topher is more than willing to give it to him. Topher grabs onto Dayton's hips and thrusting his cock into Dayton. Switching position again, Topher starts drilling for the mother lode, and Dayton delivers with a huge load spurting all over his chest. Topher pulls out and sprays his boyfriend down with his sweet cream. They collapse on the bed and fall fast asleep.
Scene 5: Jeremy Bilding, Angelo Marconi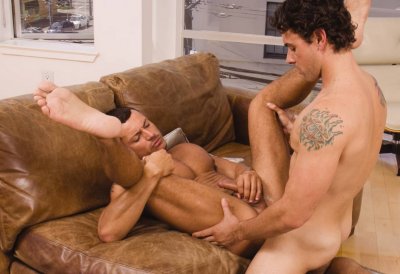 After a hard workout at the gym, Jeremy Bilding picks up a new 'training' partner, Angelo Marconi, in the locker room. They go back to Jeremy's place to continue their 'workout'. Jeremy tongue gets warmed up by working out Angelo's firm ass. Jeremy licks and spits on Angelo's hole, finally fucking it with his tongue. Angelo moans and pulls his ass cheek back so the stud can eat him out deep and well. Perched on an Eames chair in the window of Jeremy penthouse, Angelo's hole is completely soaked. Jeremy wants him all wet so he flips the Latin stud over and works his cock. Never satisfied, Angelo wants to return the favor and he moves Jeremy into a position where he can work over Jeremy's thick cock with his mouth. Soon Jeremy is working Angelo's mouth, jamming his cock against the back of Angelo's throat. The intensity builds and Jeremy bends Angelo over the chair and rams his hard cock deep inside. Angelo, the consummate bottom, rocks back and forth from the thrusts. They move to the sofa and Angelo straddles Jeremy who thrusts his cock deep inside Angelo. Finally, Angelo gets on his back, allowing his hole to get pounded until both studs explode their man seed all over Angelo's tanned belly.
Additional Information
Categories: UK R18 / XXX Gay Adult
Running Time: 90 mins, Year 2011
Price: Around £29*
Starring: Topher Dimaggio, Angelo Marconi, Dayton O'Connor, Erik Rhodes, Jeremy Bilding, Parker London
Director: Tony DiMarco
Studio: Falcon Studios
Buy DVDs online at: Simply-Adult.com, Homoactive and Radvideo (USA)
Gay Video On Demand: Falcon Studios See also: www.gayvod.co.uk
Member site: Falcon Studios
Country: USA, Language: English
Additional info: No Regional Coding