Summary:
Everyone needs a retreat away from their everyday lives once in a while. A few days off in the countryside escaping from the stress and demands of everyday life can do anyone some good. The retreat is even better when you're with the hottest men around, and they want to help you make the most of your R&R. On this retreat, it's the nonstop intense action between these stunning men that leads to the most fulfilling rest and relaxation. These hot encounters make this retreat all the more satisfying and reinvigorating.
Description / Review:

Scene 1: Will Helm and Roman Heart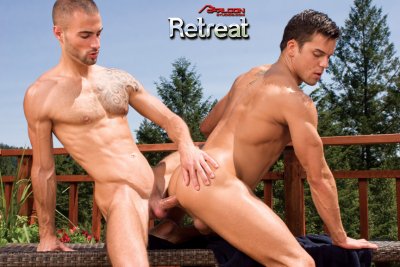 Will Helm and Roman Heart are anxious to make their perfect day more perfect. Forget the breakfast croissants on the table; those buttery treats don't stand a chance compared to Will's lean body. Hell, Roman would rather nibble up that well-sculpted torso, and then chow down on the thick uncut cock springing boldly from his trimmed crotch. He sucks Will's willy with gusto letting his tongue slurp up and down the length of the shaft and parting his lips wide enough to engulf the hooded dickhead and swallow it down. The tables turn and Will exerts total control: he blows Roman, munches his ass and then stuffs his willing hole. Roman bends forward taking it well; then he's down on his back with his legs up as he begs for Will to dig in deeper. Will delivers furious thrusts until he squeezes out huge shots of cum. Then he goes down on Roman, head bobbing up and down and sucking his partner's swollen cock vigorously until it finally pops a load.
Scene 2: Jesse Santana and Trent Locke
Lounging on the deck, Jesse Santana is relaxed and happily preoccupied stroking his thick cock. Trent Locke watches him with a sly grin and gets so turned on that he crawls up between Jesse's legs to begin sucking him off. Holding Jesse's big pole at its base, Trent opens wide and swallows it down, getting so aroused that his nipples stand out perky and erect. The guys move inside and Trent continues dazzling his buddy with his oral skills. While Trent is servicing him, Jesse reaches over to play with Trent's furry ass, grabbing and spanking the round mounds before fingerfucking the sphincter. Then he begins rimming Trent, his tongue foraging through all the butt hair to get to the tasty manhole. Wanting more, Jesse pushes Trent face down on the bed, his hands clamped onto his butt cheeks for balance, and starts screwing Trent's fine ass. Trent flips onto his back, and Jesse continues fucking him hard until they both shoot their wads.
Scene 3: Donny Wright and Andrew Jakk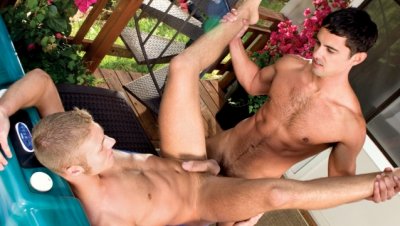 Standing outside on the back deck, Donny Wright and Andrew Jakk are locked in each hot other's embrace. Pressed tightly against each other, they suck face like two horny teenagers. Donny soon pulls Andrew's pants down to go south and suck him off. He greedily gets his fill before they trade places. Andrew handles Donny's long uncircumcised dick nimbly, sliding the fleshy foreskin up and down the shaft and over the mushroom tip. Excited and hungry to feed again some more, Donny sets his sights on Andrew's ass and dives face first, slurping it up like a pig at a trough. They get up and brace themselves on the spiral staircase where Donny drives his engorged cock high up into Andrew's. The guys get horizontal and screw even harder, Andrew taking it well and Donny delivering like a champ. Donny finally pulls out and sprays his partner's crotch with his spooge, followed by Andrew yanking and pulling his pud until he finally cums, blasting thick globs of cum.
Scene 4: Will Helm and Landon Conrad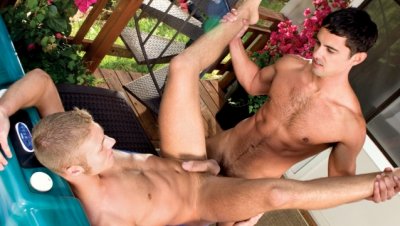 Will Helm hooks up with Landon Conrad for the perfect finish to his perfect day. They kiss and embrace, groping and then grabbing each other's cocks still under wraps and bulging inside their briefs. Landon throws Will down onto the bed and runs his tongue across his chiseled chest and down his six-pack until landing in his lap. Seizing the meaty prize in his mouth, Landon gets to work swallowing the hooded stiffy. Both men are soon reeling with ecstasy. The sexual energy escalates when Landon lays face down on his stomach to expose and yield his bubble butt for a tongue bath. Will licks and teases the hole and then after juicing it up enough, he begins to fuck it fast and furious. They twist into different positions ending with Landon flat on his back, panting hard and jerking himself off until he blows his wad. Towering over his buddy Will wanks his crank, working himself into a frenzy until he finally pops his cork and sprays loads. Exhausted but satisfied, the two seal the deal with well-deserved kisses.