Summary:
The big wheels of hot guy-on-guy sex roll endlessly on, crushing any notion that these ten studs don't know what to do with each other. A spirited exercise in expert cocksucking and ass-splittin' fun.
Description / Review: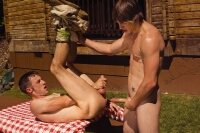 Scene 1: Brad Starr & Kurt Wild.
Hardly any negotiations are needed when Kurt comes upon studly Brad in the woods. In no time at all, Kurt is down on his knees, with stars in his eyes, as he initiates the action with Brad's mantool stuffed wholly down his gullet; then he surrenders his asshole for the hunky stud to plow.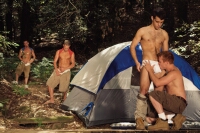 Scene 2: Cole Ryan & Steven Ponce, with Aden & Jordan Jaric.
While Cole and Steven think they're sharing an intimate moment, Jordan and Aden are in the background watching and beating their meat. No time to hold anything back as the two campers traverse each other's bodies with their tongues, mouths, hands and cocks.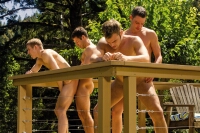 Scene 3: Tristan Jaxx, Mason Wyler, Todd Welch & Colby Taylor.
This hungry quartet finds themselves poolside and itching to go. Tristan pairs off with Mason, while Colby takes Todd on and the two sets of eager studs compete to see who can out-suck, out-fuck, out-rim and out-sex the other, until they switch partners to carry on even more.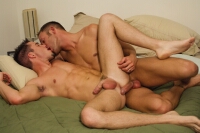 Scene 4: Aden & Jordan Jaric.
Aden and Jordan finally come together for the reunion they've been aching for. They start off slow and deliberate, until passion kicks into high gear and they bombard each other with spirited enthusiasm, climaxing in two explosive bursts of mancream. (See also: The Best of Aden and Jordan Jaric)
---

You might be interested in The Best of Aden and Jordan Jaric which features scene 4 from the title.
The Best of Aden and Jordan Jaric
See what makes Falcon's exclusive couple Aden and Jordan Jaric true Falcon Legends as they star in nine scorching hot full-length scenes from some of Falcon's greatest titles of all time, making The Best Of Aden & Jordan Jaric a must own.