Summary:
Bucks County is in the rural back roads of America and home of young, all-American guys. Athletic and virile, they work hard - they play hard, too, sharing energetic, intimate moments with each other. Their spontaneous, carefree sexual attitude is a testament to their simple surroundings and their need for release. Rural innocence and lusty desire create a brotherhood of hyper sexual studs who exchange intense pleasures.
In Bucks County 2, award-winning directors Tony Dimarco and Bruno Bond film these stunning hometown men in playful, lusty and romantic action that will send your fantasies ablaze. Bucks County 2 includes five pairs of men who share each other and fulfill desires.
Scene 1: Liam Magnuson and Ryan Rose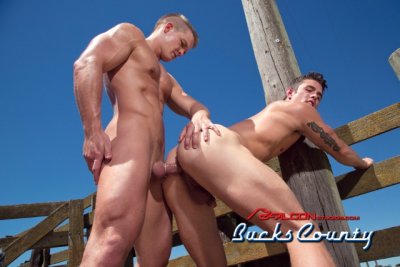 Ryan Rose and Liam Magnusson connect in an erotically charged fuck in the corral by the barn. Delayed gratification makes for hotter sex. After a day hiking, Liam Magnuson and Ryan Rose are raring to go. They stand shirtless, nose-to-nose and navel-to-navel, their skin burnished by the sun. Both these guys are made out of muscle. Ryan is dark and smooth. Liam is blond and freckled, with a pelt of barely visible hair covering his chest. His shorts ride low, exposing a tantalizing view of his crack and cum gutters that look carved. They pick an empty livestock corral. Liam takes the lead, briefly sucking Ryan, then taking time to feast on the moist center of Ryan's buns. He pauses now and then to suck Ryan's balls, too. Ryan bends low and grabs a wooden rail for support when Liam spears him from behind. Liam goes easy at first, then he grasps Ryan slams him with all the speed and ferocity he can muster. The muscles of both men ripple and bulge. When Ryan needs a break, he sucks Liam's cock and balls for relief, then he gets on his back and the fucking resumes until their sweat pours down like rain. Ryan makes bottoming an aerobic activity that eventually brings Liam to a gushing orgasm all over Ryan's chest. Liam holds Ryan in his arms, massaging his chest until Ryan blows a big, viscous load.
Scene 2: Woody Fox and Kip Johnson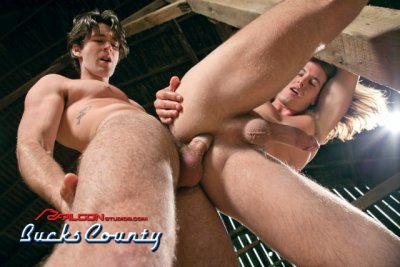 After some football on the lawn, Woody Fox and newcomer Kip Johnson want something more intimate. Kip is 6 feet 3 inches of beef, with dark blond hair tumbling over his shoulders. His swimmer's body has a golden tan and a scant dusting of blond hair. He and Woody find an inviting spot to fuck, in the barn, making out through the rungs of a ladder. Woody strips and climbs the ladder until his cock is level with Kip's mouth, then he tickles Kip's tonsils with his uncut inches. Woody climbs down the ladder and Kip climbs up, stopping when his hole meets Woody's tongue. He smiles and grins as Woody tickles his taint. The mood gets more intense when Woody impales Kip on his cock. Kip twists his torso so he and Woody can make out while they fuck. Kip then sits on Woody's cock, and rides himself to pleasure. Kip's balls are so loose that they slam into Woody's on every down-stroke. Woody reaches around and grabs Kip's cock, inciting Kip to cum for all he's worth as Woody plows him relentlessly. Then Woody pulls his cock out and adds his spooge to Kip's.
Scene 3: Vance Crawford and Ryan Rose
Behind the barn, Ryan Rose and Vance Crawford have found themselves a quiet, secluded spot to make some noise. Vance is naked and on his knees. His pale buns flare sexily out from a narrow waist as he sucks Ryan intently. Ryan grabs the fence rail for balance and grabs Vance by the hair with his free hand. Ryan's balls get their share of being sucked and squeezed, which brings a grin to Ryan's face. When Vance's jaw muscles demand a rest, he sits on the top rail of the fence for Ryan to blow him. Vance has to grab onto two fence posts to keep from being thrown off balance by his huge low-hanging balls swinging back and forth. His entire body begins to quiver as his cock jettisons cum all over Ryan's hard chest. Ryan licks up the droplets of Vance's jism and shoots his own load into the dirt.
Scene 4: Jason Goodman and Joey Cooper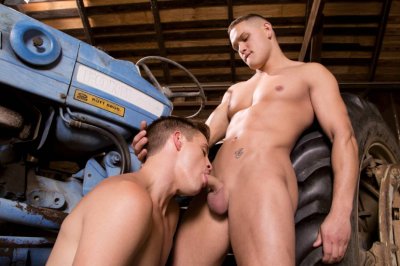 Jason Goodman and Joey Cooper are feeling that hot surge in their loins that comes when you need to bust a nut with the guy you're with. An old tractor looks inviting. They nuzzle like a couple of young colts. Jason unbuttons his jeans and Joey takes over, giving Jason's cock and balls an oral workout. Joey is a cute collegiate type — clean-cut, with dark wavy hair, no tattoos or piercings. Jason is more the linebacker type, with a diamond stud and some body ink. Jason lies along the huge tire of the tractor, his spine arched, his nipples and cock upright while Joey sucks him. Come time to swap, Jason sucks Joey, then Joey lies belly-down over the tire for Jason to eat his ass. That same tire provides ballast when Jason sinks his cock in Joey's tight white hole. Joey is transported to a "fuck me" state of consciousness, in which the world is reduced to cock and ass. They find a bench for Joey to lie on, and Jason fucks and sucks him at the same time. Joey spits in his hand and starts jacking his way to orgasm, cumming in high arcs just as Jason pulls out of his ass and covers Joey's pubes with his spunk.
Scene 5: Vance Crawford and Jack King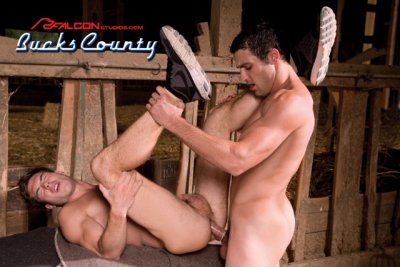 Vance Crawford and Jack King cool off by spraying each other with the garden hose. Their horseplay turns to wrestling, and trying to strip each other. A surge of sexual energy and aggressiveness leaves them both naked, and covered with lawn debris. They have crossed the point of no return, when they know they're gonna fuck. But when and where? That question is answered when we next see them in the barn with Jack is offering his cock to Vance. Jack has short black hair and dark eyes. Vance has a nice bush and large balls. Vance plays with them before grabbing hold of, and sucking, Jack's cock. As good as Vance's mouth feels, Jack wants his ass. A bale of hay and a horse blanket later, Jack is jamming his cock deep into Vance's hole. The missionary position gives way to a sit-fuck that showcases Vance's colorful ink sleeve and a beautifully shaped ass. The sun is setting and sweat is rolling off their bodies when they cum – almost simultaneously – onto Vance's chest and abs.
DVD + This DVD Includes 3 Bonus Scenes from the Falcon & Raging Library Selected by the Director to Compliment the action in this Brand New Release!