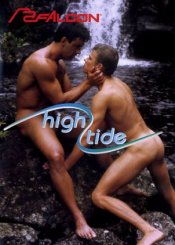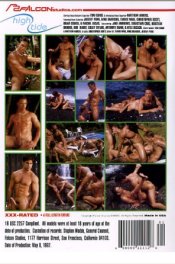 Summary:
A hot young man--with a fabulous job, home, and a beautiful...girlfriend? All is not as it seems in this tale of a lost love gone astray. Starring Falcon Superstar Tom Chase and introducing Matthew Anders. Shot in beautiful exotic locations on the island of Hawaii and featuring the hottest cast ever assembled.
Description:
Scene 1: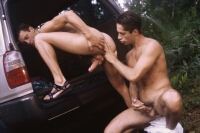 Hiking through a tropical forest, Matthew Anders happens upon two other travelers—Michel Lucas and Colby Taylor. The two stunning young men are out enjoying the sights and each other…asking Matthew to snap their photograph amidst the natural splendor of a tropical forest. As soon as Matthew leaves, the couple decides to enjoy their own respective beauty. Colby services his eager friend, taking Michel's stiff uncut cock into his mouth, savoring the tool from tip to shaft, finally bathing his balls with broad sweeps of a soft but insistent tongue. In no time at all, Michel is on his knees returning the Colby's oral affections, his tongue wandering over the balls and into the crevice of Colby's ass, his finger probing the pucker of his hole. Raising him up, Michel fucks Colby hard and fast; he continues the erotic rhythm as the pair lay nestled in the back of their car. Frenzied, anxious for release, the two taut men stroke themselves to orgasm, blasting each other with their thick hot loads.

Scene 2: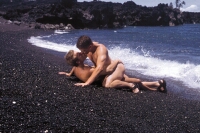 Relaxing on a remote black sand beach, Matthew lies back, soaking in the sunlight. Muscled blond jock Jeremy Penn spies Matthew on the sand. Jeremy impulsively blankets Matthew's body with his own, then pulls Matthew up and into the surf. Standing naked in the shimmering water, their passion churns and swells like the surf surrounding them. Matthew finds himself drawn irrepressibly toward Jeremy's stiff erect cock, worshipping it from the cleft of the tip down to the gentle curve of Jeremy's full, protruding balls. Soon Matthew is devoting his attention to Jeremy's firm round ass…spreading his cheeks and probing Jeremy's hole with an insistent tongue…transporting Jeremy into a highly charged erotic state. The two relocate to an igneous outcropping and Jeremy slides his aching cock deep into Matthew's hole. Jeremy forcefully and rhythmically fucks Matthew until the delectable ache of orgasm expands, triggering an explosion of pearly ropes which adorns Matthew's back.

Scene 3: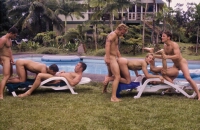 Back at the house, Matthew meets Jeremy's buddies lounging poolside—Jake Andrews, Christopher Scott, Travis Wade, Kristian Brooks, Rod Barry, Anthony Shaw, and Kyle Becker—enjoying the sun. Christopher Scott takes on Jake Andrews and Kyle Becker; Kristian tangles with Travis, while Anthony devotes himself to servicing Rod Barry's stiff prick. The scene becomes a frenzied orchestra of male satiation. Jake feeds Christopher a dildo, which he eagerly accepts. Travis stretches Kristian's hole with a buttplug while Rod inches a set of latex balls into Anthony's ass. Anthony groans ecstatically as Rod pulls the toy out…one segment after another. Rod zeroes in on Anthony's ass, pounding it with abandon. Christopher sucks Jake as Kyle fucks him from behind while Travis buries his tool deep in Kristian's hole. The seven studs continue fucking, sucking, stroking and pleasuring themselves until each man—urged on by his lusty mates—forcefully ejects his load, soaking in all the masculine energy. (See also: Pool Parties 2 DVD set)

Scene 4: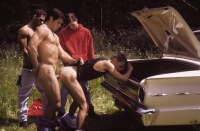 Stumbling out of a club, Matthew Anders is overcome by three thugs—Mike Branson, Brian Cruise, and Sebastian Cruz—determined to teach him a lesson. The brutal trio takes turns stuffing their thick cocks into Matthew's mouth, then decides to spirit him away to a remote location. Stuffing Matthew into the trunk of their car, they speed off. Parked on an isolated hill, the horny hoodlums vie for the opportunity of being the first to exploit the dazed blond stud. Brian Cruise wins, forcing his thick hard cock down Matthew's throat. Brian pulls his captive from the trunk and fucks him hard and fast. Sebastian and Mike can hardly wait for their turn. Sebastian takes over, pumping Matthew forcefully. Mike takes his turn, feverishly pounding Matthew's ass. The trio taunts Matthew as they ravage his ass, then all three shoot their loads across the small of his back.

Scene 5: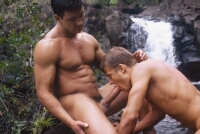 Seven years later, Matt is back where he belongs—with Tom, the true love of his life. Time has not diminished their ardor, rather it has only strengthened their bond. Rediscovering themselves, the lovers frolic in the surf, playing in the sand, walking hand in hand. They seal their love with a kiss in the surf, while in the background a cathedral of waterfall and rocks reflects their passion. Matt devotedly sucks Tom's huge cock drawing every rock-hard inch deep into his throat. The two transmit their undiminished love to each other with long looks; their passion steamy and sensuous. Tom lovingly takes Matthew's cock into his mouth, then meanders to his hole, massaging and priming it for a full session of fucking. They make up for lost time as Tom pumps Matthew full with his huge dick, each stroke throbbing with pleasure and passion. They stroke off and finally explode, releasing their essence. Still basking in the afterglow, they sit alone on the beach, as the waves serenade them.

---

Review:
High Tide earned a perfect five-A rating from AVN on its original video release in 1997. Perhaps the most amazing scene is the beach sex homage to From Here To Eternity, with Matthew Anders and Jeremy Penn necking as the surf crashes around them. Who needs Burt Lancaster and Deborah Kerr? This is as thrillingly romantic, and the guys create sex history by making love on the black sand beach.
Anders starts this whole story off by a knock on the noggin that triggers a past he had lost after suffering amnesia seven years earlier. Now he has a girlfriend and finds himself living a normal life - but anyone who has Chi Chi LaRue lingering in their flashbacks can't be normal. His memory washes back in small waves. Hawaii beckons Anders, and so do men. It's not only blowjobs by scenic waterfalls and sexy underwater nude play that make this dvd. It's the hot, nasty sex. Mike Brandon, Brian Cruise and Sebastian Cruz stuff Anders in a truck and rough him up before making "the fag" pay by stuffing their huge cocks into him. They've got the meat to do some serious tonsil-tickling, and this is no delicate sex in the back of their car. Of course, these despicable homophobes with monster dicks have to jack off for each other to see who gets hard first before they "teach the fag a lesson."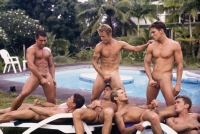 Yes, there's humour too. In the kink department, seven bronze gods go at it by a pool. Travis Wade shoves a fist-sized buttplug in Kristian Brooks' hungry hole, while super bottom Christopher Scott takes an arm-sized dildo eased in by Jake Andrews. Then, something you don't see much of: four balls are stuffed into Anthony Shaw's willing ass by Rod Barry, who tortures the ecstasy out of his lover by pulling them out ever so slowly. It's a poolside orgy for the history books, ending with a fireworks display of cum shots. A maturity in storytelling is also evident here, as Anders rediscovers his gay past. What better way to wake up from a fog than with studly Jeremy Penn, who shyly rehearses his line to introduce himself to Anders on the beach? But instead, Penn abandons all caution and throws himself onto the sand and passionately kisses the sunbathing stud. It's very shocking and funny at first, then passionate, then boner-inducing. The colours of the sea, the pastel skies, the powdery surf, and the bubbling white waterfalls are all impressive.
Even in the dense rainforest pairing between Michel Lucas and Colby Taylor, it's clear, colourful and sensual. The bottom line - director John Rutherford is a master, Todd Montgomery a superb cameraman, and the cast is full of superstars. But the whole here is definitely greater than the sum of its parts. There no low point.
High Tide may spark fantasy and romance in a lot of sex lives, and may also serve as a more powerful Hawaii-magnet than same-sex marriages.
---
This DVD title appear to be currently deleted. However you can still stream, download or burn it to disc using the link below.

See also: Pool Parties which features scene 3 from this title. Pool Parties: Falcon Four Hours features 12 Speedo-stretching poolside encounters featuring the combined talents of 48 horny and demanding studs. Iconic stars - including Mike Branson, Brad Patton, Jake Andrews and Eric Hanson - drinking up the sun as they indulge in a hot splash of summer sensuality. Don't miss a moment of this sultry dip into desire.



Additional Information
Categories: UK R18 / XXX Gay Adult,
Running Time: 80 mins, Year: 1997
Starring: Tom Chase, Matthew Anders, Mike Branson, Jeremy Penn, Travis Wade, Michel Lucas, Brian Cruise, Christopher Scott, Jake Andrews, Sebastian Cruz, Kristian Brooks, Rod Barry, Colby Taylor, Anthony Shaw, Kyle Becker
Price: Around £29*
Director: John Rutherford
Studio: Falcon Studios (Falcon Pacs 100-149, Years 1995-2003)
Buy DVDs online at: Simply-Adult.com, Homoactive and Radvideo (USA)
Gay Video On Demand: Falcon Studios, See also: www.gayvod.co.uk
Member site: Falcon Studios
Country: USA, Language: English
Additional info: No Regional Coding