Summary:
It's getting hot in here. Falcon superstar Travis Wade has his eyes on a red '67 Mercury convertible, and nothing will stop him from getting what he wants. The heat rises in the car—and on the screen.

Description:
Scene 1: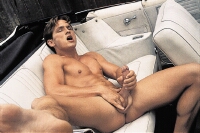 Wade gets so horned after seeing the car of his dreams, he can't think of anything else. He dreams of laying in the back seat, stroking his meat. He stands up to show off his hot bod, then grinds his cock against the trunk to squirt.
Scene 2: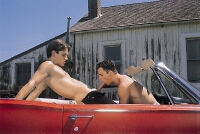 While taking the car for a test drive, Wade comes across hitchhiker Brian Daniels. After the two eye each other while driving, Wade takes a detour so the two can strip down and fuck around in the front seat.
Scene 3: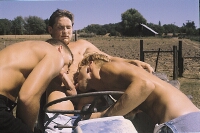 To help pay for the car, Wade decides to take a tractor job on a farm. Bosses Blake Anderson and Mitchell Stevens are soon sampling the goods, opening up Wade's overalls to share his cock. Mitchell then gets fucked by both.


Scene 4: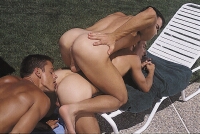 While on his way to pay for the car, Wade spots a heated threesome by the pool. Falcon standout Eric Hansen has his cock at full mast, shoving it into the mouth of Nick Ford, who also fits in handsome Noel Hardwick's piece. Ford then takes turns getting fucked by his friends. (See also: Pool Parties 2 DVD set)

Scene 5: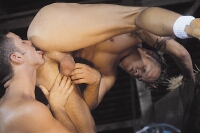 After arriving at work, Wade takes a break up the ladder in the barn…and spots Tristan Paris sucking Rod Barry in the hay. After munching on Barry's foreskin and hole, Paris takes a series of sex toys up his ass.
---
Review:
After 1983 and 1988 ....
The legendary bike gang returns ... and this time the initiation is going to be brutal. Spokes III takes the themes of sexual submission and intense group sex of Falcon Classics Spokes and Spokes II to the next level.
When Mason Wyler arrives at his friend Ross Stuart's farm for a summer, he's warned to stay away from the bike gang that rides through town this time every year. Stuart provides him with a cautionary tale of watching some of the guys fucking around in the garage the summer before. Mason's intrigued, but stays away ... or does he? With the initiation coming up, Mason can't stay way from the barn. Ross is there too, but turns out he's already been initiated. That leaves just Mason as the new recruit and he's got to take the entire gang one by one, making for the most explosive gangbang ever caught on film: Mason's ass versus all eight members of the gang. Will he make it into the gang? Will he even survive?
Also available: Spokes I and Spokes II
---

See also: Pool Parties which features scene 4 from this title. Pool Parties: Falcon Four Hours features 12 Speedo-stretching poolside encounters featuring the combined talents of 48 horny and demanding studs. Iconic stars - including Mike Branson, Brad Patton, Jake Andrews and Eric Hanson - drinking up the sun as they indulge in a hot splash of summer sensuality. Don't miss a moment of this sultry dip into desire.