Summary:
Award-winning directors John Rutherford and Chi Chi LaRue join together for Stroke and direct five separate vignettes - each one steamy and each one featuring hot guys.
Description / Review:
Kitchen pros now say that you can cook anything on a grill. Apparently that includes snackcakes, because Falcon presents eleven young men that don't just heat up – they sizzle. Poke them and hot juices spurt out all over the place!
Stroke is not without its ironies. First, the title is misleading. It suggests masturbation, but with an opening threesome followed by four intense pairings, nobody fends for himself very long.
Next, the format is older than any of the cast members. Stroke is a collection of five self-standing segments with separate opening credits. The role-playing is rigidly and historically defined – the older, straighter, darker, taller, meatier guy tops the younger, gayer, blonder, shorter, slighter guy. The only flip-flops here are of the type one wears on one's feet.
Yet everything old is new again when you have Chi Chi LaRue and John Rutherford directing. Together they bring out the final irony. Don't think this is a video version of the sleazy 1980s glossy of the same name. Yes, this is as graphic as videos come, but it isn't quite right to call it "sleazy." Rather, there is a sense of unabashed and unashamed fun among the cast. In Stroke we see young men just discovering the delights that adult sexuality has to offer.
The first sequence is directed by Mme. LaRue and ostensibly stars box-cover model Jason Tyler. It opens with Lindon Hawk and Matt Majors on top of a pool table and Tyler initially looking on. Tyler is classic straight trade and shows little enthusiasm. Hawk does his part to raise the temperature with his enormous tool, but Majors steals the show. He takes each man up his tight little ass, sweating and squealing like the sex pig he is. You wonder how it's possible that tab A of either of these guys could ever get into his slot B.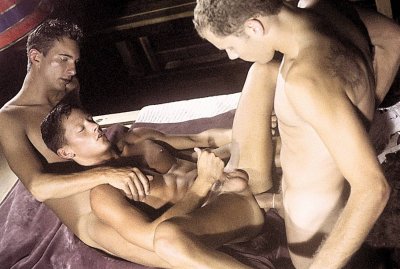 Chi Chi sets scene two in a kitchen, as Seth Adkins and Matt Sklyer enjoy some "afternoon delight." These two blond studlets really get into it, constantly gazing into at each other's eyes and engaging in the video's most varied sexual activity. The high point comes when Adkins lifts Skyler by his haunches for a fantastic mid-air pounding. Skyler is a consummate bottom – as he should be. He bears an uncanny resemblance to the legendary Danny Sommers; he could pass for a younger brother;


Rutherford directs the following "loop," which is the first with dialogue. In a garage, Jesse Martin (with amazing eyelashes that are as long as he is tall) flirts with and fantasizes over his auto mechanic, the drop-dead gorgeous and well-hung Daniel Montes. The sex itself is limited but steaming: Martin sucks Montes through the window, and Montes fucks Martin on the hood. Martin finally comes back to reality by shooting cum all over his lap and discovers that Montes has just done the same.


Bedroom passion reigns in Rutherford's next loop, as Roland Dane and Jason Law ably convey the sense of two men in love making love. The scene has the video's only 69 session; then, as Dane fucks Law in long, steady strokes, first from behind and then side by side, the two men kiss with a genuine intensity before erupting in mutually massive orgasms.
The final scene is the most rambunctious, set outdoors by a hot tub. Veteran Tristan Paris - as if anyone that young could be a veteran - goads the shy Drew Damon out of his Speedos and chows down on a meat-lover's dream. Both guys are having the time of their lives. The scene's one drawback is a misdirected attempt at another mid-air fuck. Paris is just too big for Damon to hold up, so it never quite works; Rutherford should have edited it down, or even out. The boys finally revert to more traditional positions: Damon pounds Paris's ass relentlessly, and both men shoot copious loads while sporting shit-eating grins.
All but two cast members (Martin and Majors) were Falcon exclusives at the time of filming, and all clearly love their work. Stroke is Falcon at its bare essence - young men expertly filmed having very hot sex.