Summary:
Megastar Brad Mitchell joins Dcota, Matt Gunther, "Big" Jack Dillon, Mark Andrews, Brad Petersen, Jamie Hendrix and Steve Davenport for dynamite action!
Description
Scene 1: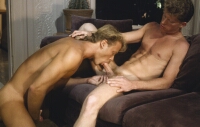 Jamie Hendrix cruises Mark Andrews in a gay bookstore. The two men head off for an afternoon filled with sucking, rimming, ass-play and fucking.
Scene 2: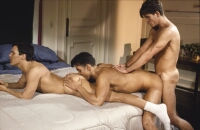 Matt Gunther and Dcota invite Brian Peterson for a ride and a three-way. Once inside these sex-craving studs fill every hole over and over again with forceful intensity. They work each other over in every conceivable way before shooting their loads and relaxing in each others embrace.


Scene 3: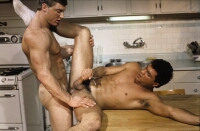 Carwash attendant Steve Davenport offers customer Jack Dillon something more than a simple soaping. Back at Jack's place Steve worships Jack's muscled chest, nipples, and armpits. Terribly turned on, Jack gently rims and stretches Steve's ass...fingering more forcefully as Steve opens up. Steve rides Jack's fingers but his hole is hungry for more and Jack is eager to please....pounding Steve's ass until both men spill over in orgasm.


Scene 4: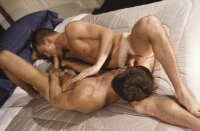 Matt Gunther spies military man Brad Mitchell in SF's Lincoln Park. The two men take cover indoors and Matt give Brad a thorough workover in his uniform. Matt and Brad massage each other...working out of their clothes and enjoying every reveal. Soon Matt's on his knees...dutifully worshipping Brad's cock. Brad returns the favor and soon the men are sucking each other's cocks. Matt rims and probes Brad's hole...preparing him for the ass-fucking to follow. But once isn't enough and after Brad pops his load Matt flips him over and gives him another pounding and another blast of cum.


Review:
The original Falcon Cruisin' in 1988 was a paean to impulsive romance with many memorable sexual performances from the likes of Race Jensen, Jack Lofton and Troy McKenzie. At the time it came out, reviewers emphasized the romantic elements to the sex.
The performers had a quality that made a simple, wordless pickup at the park or along the San Francisco Marina a real event. It was the last days of porn innocence in gay America. Released three years later in 1991, Cruisin' II (More Men On The Make) (Falcon Pac 74) isn't the least bit innocent, but is most certainly steamy. It's comprised of vignettes depicting more pick-ups in places like the Castro district's Jaguar Books, the car wash, the park, and on the foggy, thoroughly alluring streets of The City. The sex is athletic and immediate with a minimum of bother.
It's amazing though what a little thought in the one scene with a real script does to enhance the production. Matt Gunther and Dcota, presumably playing a pair of lovers, pick up Brian Peterson for the feature's one threeway and provide some fun and unusual dialogue. A simple, 30-second exchange like this can go so far to establish sympathetic characters, create a sense of realism, and get us to root for the players to the point that the sex is elevated to something more than a chance encounter.
All in all though, Cruisin' II is full of classic hardcore dynamite action.