Summary: Heralded as a celebration of summer sensuality, this Falcon classic centres on the lusty, spunk-filled poolside games of some of its greatest stars. Sit back and re-live the glory of the pre-condom era.
Controversial it might be, but the plain truth of the matter is that Falcon's decision to re-release a collection of their pre-condom classics has thrown some much-welcomed gems back into the porn market. Of which this offering, set against the backdrop of poolside fornication, is one.
Description:
Scene 1: Joey Stefano & Lon Flexx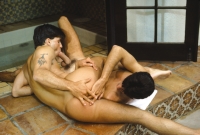 Lon Flexx is relaxing in a hot tub when Joey Stefano walks up and inquires about the water. Lon invites him to get in. It only takes a few minutes for Joey to get accustomed to the water and his immediate surroundings. Joey sucks on his big dick enough to coax him out of the hot tub and into his tight ass. (This scene features in The Best of Joey Stefano
Scene 2: Andy Mantegna and Luke Bender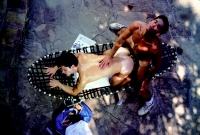 Andy Mantegna is lounging by the pool and looking through one of his favorite magazines. This publication is so good that Andy has to take off his bathing suit and start stroking. Andy must have been a boy scout because he is very prepared with some dildos and lube in his duffle bag. Finally, Luke Bender comes across Andy and is able to give him the real thing. Andy is so grateful that he eagerly sucks Luke's big dick and is rewarded with an assfull as well.
Scene 3: Joey Stefano, Doug Niles and Steve Kreig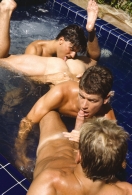 Joey Stefano is in the poolside hot tub while Doug Niles and Steve Kreig are soaking up some sun on the lounge chairs. Joey successfully coaxes Steve into the hot tub while Doug looks on with interest. Sun, water and big dicks are the key ingredients for this hot three way. (This scene features in The Best of Joey Stefano
Scene 4: Buck Tanner, Rod Phillips, Cal Jensen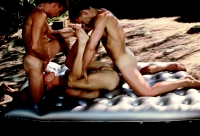 Buck Tanner and Rod Phillips are sunning on a raft in the pool when Cal Jensen jumps in the pool and sends them into the water. Rod and Buck pull Cal out of the pool and pin him down onto a matt poolside. Soon Cal is doing just as he is told and no longer has to be restrained. Which is a good thing because he needs everything he's got to take care of these two.
Review:
Joey Stefano – whose gorgeous image dons the cover – is the main star of this flick; with a hot jacuzzi scene between him and Lon Flexx to start. Some magnificent cock-sucking and finger-fucking ensue; with Flexx finally shafting Stefano bareback. Later, Stefano snares Doug Niles and Steve Kreig, who are sunbathing on the side of a pool. Having watched as Stefano bobs his butt up and down in the water, Niles then watches as Stefano's mouth slurps the length of Kreig's fat cock – and what a fantastic, seductive scene it is. It's almost as if he knows how beautiful he truly is, with his dark eyes panning to the camera as he sucks dick. By this point, I must confess that I was in serious need of some tissues; and the situation was made even worse when Stefano proceeds to get rimmed and sucked simultaneously by the other lads, before taking Kreig's cock up his ass (bareback, of course!)
It would be wrong to say that Stefano is the only subject of desire here, however. The scene involving Andy Mantegna as he pleasures himself with a dildo, before Luke Bender arrives to fuck his mouth and man-cunt, is equally wonderful. As is the scene which sees Cal Jensen pinned down (his hands tied by Speedos) by Rod Phillips and Buck Tanner. Nevertheless, Stefano is truly as hot as they come, with his come-to-bed-eyes and magnificent manhood, and is surely worth every last cent paid him by Falcon to perform.
Of most interest, however, has to be that the action is all very much sans-condom. Morality aside, there's just something about seeing naked flesh filling a guy's butt-hole; and like it or not, the studio knows exactly what it's doing by re-releasing this flick (and others like it). So take the plunge – and re-live the glory days of porn. When men were men, and cocks slipped inside just that little bit easier!
Fans of Joey Stefano can also see him in Falcon Studios: Revenge More Than I Can Take
Click here to see other gay movies featuring Joey Stefano
Just out:
The Best of Joey Stefano featuring 2 scenes from Plunge