Summary:
This feverishly hot classic from Falcon Studios gets the DVD treatment. It includes Kevin Williams' return to the screen as well as some rough ass play that will clench your sphincter.
Description/ Review:
We begin by the pool, where insatiable bottom hunk Kevin Williams and frisky jock top Virgil Sinclair ignite some serious fireworks while basking in the glorious midday sun. Kevin expertly deep throats Virgil's rigid horsecock, then bends over to expose his gaping one-eye, which Virgil lovingly sucks and tongues. Virgil then fills up Kevin's tank with a few lengthy pump-fulls of pool water, which our boy squirts back out in a splashy, sparkling fountain. After some heated ass pounding by Virgil, Kevin is treated to a delicious face frosting of Virgil's vanilla cream.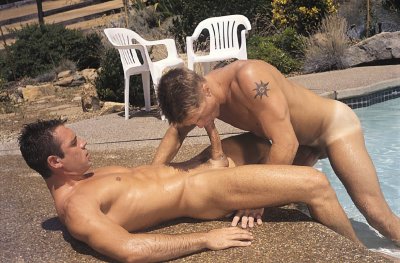 Next we spy Jeff Palmer as he's peeping through a pair of binoculars: uncut muscle stud Luc Jarrett and ripped gym boy Kyle Becker are trading blow jobs by some rocks in an open field. Both of them are hairless from the pits down, save for their tightly mowed pubes. Luc fucks Kyle on the rocks by a babbling brook; remarkably, Kyle stays rock hard throughout his ass slamming. Kyle pops a splattery nut while being poked, then watches as Luc gunks out a thick wad of his own.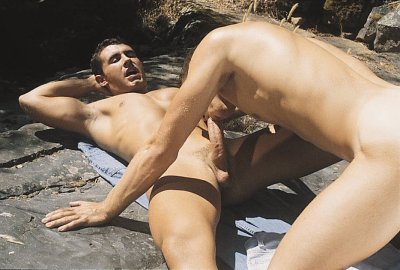 Meanwhile, Kevin is at home, pleasuring himself with a ridiculously oversized dildo. Peeper Jeff gawks in amazement from outside, unzips, strokes up, straps on some latex, hurls open the sliding patio door and pounces on Kevin, who's rather surprised by the sudden intrusion. Just as suddenly, Jeff's thick curvy cock offers Kevin some throbbing anal intrusion. The disappearance and reappearance of Palmer's jeans is a minor continuity flub, but your attention will likely be drawn to the exquisite manner in which Jeff lunges and ripostes all the way in and out of Kevin's slick heinie hole again and again. And again.
Jeff soon reaches over for that frightfully wide, painfully deep dildo and manages to squeeze it into Kevin's ass while Jeff's cock is still lodged inside. Talk about filling 'er up! If that's not enough to twitch your o-ring, Jeff then snaps on a latex glove and makes Kevin his hand puppet. After some intense fisting, we're back to the standard cock-stuffing stuff, capped off as both lads spray juicy loads of cum all over.


Finally, Kevin is the centerpiece of a rape/gang-bang fantasy. Tipped off by Jeff, four well hung ne'er-do-wells (Thom Barron, Sebastian Gronoff, Kevin Miles and Carlos Morales) don facial stockings and lay siege to Kevin's house. Each intruder wears a jumbo-sized strap-on and they each take turns stretching Kevin's hole while he's pinned down against a boulder in his back yard. Night falls, but the party is far from over: the fearsome foursome ties Kevin up to a tree and leaves him there until the next morning.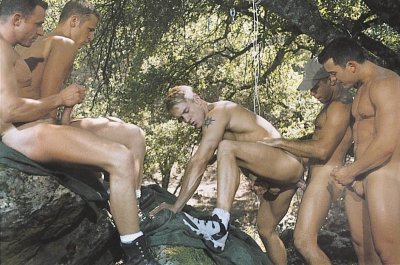 ome sunrise, the four bad boys return, this time wearing jeans. They've left their strap-ons at home, but they're each sporting a massive hard-on to shove between Kevin's quivering cheeks and cram down his gullet. Best image: Three of the guys prop bottom boy Kevin above Kevin Miles' rock-hard prong, hoisting and lowering him so that he's bouncily riding cock without ever touching the ground. Quite impressive. We end as the quartet hose Kevin down in their creamy spurt, turning him into a human cum rag. And don't you just know he loves every bit of it!
Betrayed is brimming with beautiful bad boys, buff bodacious bodies and a bounty of big butt-busting boners. Add to this some stylish camerawork and plenty of onscreen heat, and viewers are virtually guaranteed a big sticky wet spot in their crotches time and time again. And again.