Summary:
Join Falcon Exclusive Pierre Fitch as a not-so-innocent modern-day Little Red Riding Hood who meets his match in Falcon Exclusive Gus Mattox as the big bad wolf. Along the way he has steamy encounters with his horny and hung roommate, three dirty little sex pigs in a cabin, a hot-to-fuck blond woodsman and a few other characters. The cast also features Exclusives Bobby Williams, Tristan Adonis and Barrett Long, Falcon newcomers Collin O'Neal, DC Chandler, Nate Alexander, Andrew Rubio and Marcus Allen, and Falcon Lifetime Exclusive Jason Adonis. With a sexy twist on fairy tale classics and Pierre's hot ass getting worked over from start to finish, Through the Woods is sure to become your favorite bedtime tale!
Description / Review:
Scene 1: DC Chandler, Pierre Fitch
Also available:- The Best Of Pierre Fitch (Compilation)
To begin Through The Woods (Falcon Pac 157), a Little Red Riding Hood take-off, Pierre Fitch dons a little red hoodie and hitchhikes to his grandmother's house - but he blows his studly roommate before he sets off. Their scrumptious scene gets this fractured Falcon fairy tale started on a high note. Chandler has grown into a sexy man's man, and his veiny uncut cock is as delicious as ever. This is not wasted on Fitch, who devours every inch with care, then Chandler pounds him with sweaty conviction. This coupling is a tough one to beat, but Fitch does his best as he hits the road to Granny's.

Scene 2: Nate Alexander, Marcus Allen, Andrew Rubio, Gus Mattox, Barrett Long
Also available: Suited for Sex (2 DVD Compilation)
Hitchhiking, Pierre Fitch (non-sexual role) is picked up by Mr. Wolf (Gus Mattox), who can't wait to tell him a story from his school. Four bad-boy students must get punished by Gus: Marcus Allen, Barrett Long, Andrew Rubio and Nate Alexander. After paddling their bare asses, they quickly start sucking and fucking each other the second their cocks get hard.
Scene 3: Pierre Fitch, Tristan Adonis
Also available: Young Men Of Falcon (2 DVD Compilation)
Also available:- The Best Of Pierre Fitch (Compilation)
Next, Fitch attempts to bum a ride from Tristan Adonis, but not before playing with him. Fitch gets to show off the picture-perfect butt that graces the box cover.
Scene 4: Collin O'Neal, Bobby Williams, Pierre Fitch, Jason Adonis
Back on the road, Fitch arrives at a cabin in the woods that he thinks belongs to his grandmother. However, we soon learn that it is the retreat of three bears. The trio decides to have a circle jerk while Fitch is sleeping in the other room. The scene packs a wallop and the mutual attraction among the men is palpable.
Scene 5: Gus Mattox, Pierre Fitch
Also available:- The Best Of Pierre Fitch (Compilation)

-
Fitch finally arrives at the right house, but Granny is nowhere to be found. Instead, Mattox has sneaked into her bed, where he lures Fitch into his wolfish clutches. Mattox fucks the newbie and ends this enjoyable romp. The director keeps the mood light and the action hopping. Fitch makes a winning bottom and the cast are excellent. Grrr
Click here for other gay DVDs featuring cover boy Pierre Fitch including Pierre's After School Special, Pierre's Freshman Year, Big Dick Club, Born 2B Bad, and Spokes III
---

See also: Suited For Sex (2 DVD set - 4 hours) features scene 2 from this title. 'Suited for Sex' features four full hours of windsor knots, crisp creases, starched whites and tented trousers featuring the men of Falcon. Demanding bosses, concerned co-pilots, executives on the prowl and looking forward to the sensual strip down from suit to skin.



See Falcon Studios 2 DVD set - 4 hour compilation - Young Men Of Falcon which features scene 3 from this title. 'Young Men of Falcon': Falcon Four Hours features twenty five of the hottest young men from the Falcon Family of Companies. Settle back and watch these eager young studs learn all the ropes from the men dreams are made of; full of energy, eager to learn and determined to please, these stud-pups are an inspired new generation of Falcon Men.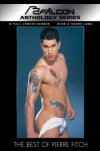 See also: The Best Of Pierre Fitch which features Pierre's 3 scenes from this title. The Best of Pierre Fitch shows what makes Pierre Fitch a true Falcon Legend! Eight scorching hot, full-length scenes from some of Falcon's greatest titles of all time make this collection a must own.


Pierre's 3 scenes from this title are also featured on The Best of Pierre Fitch