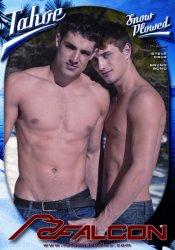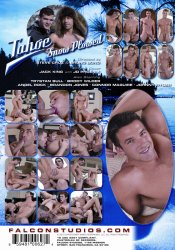 See also:
Tahoe: Snow Packed


Summary:
Lake Tahoe is a winter playground filled with natural beauty, and it's a favorite spot where handsome, horny studs go for intense skiing and snowboarding. They also go for passionate recreation with other attractive men. As these eight men are about to discover, Tahoe is a sexual frontier worth exploring. Falcon's exploration of this sexual Winter Wonderland continues with Tahoe: Snow Plowed.
Directors Steve Cruz and Bruno Bond show what we'd most like to do on our winter vacation, with guys we want do it with.
Description / Review:

Scene 1: Trystan Bull, Brody Wilder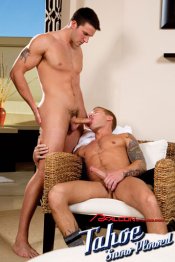 After taking in the snowy sights of Lake Tahoe, Brody Wilder kicks back in his boxers and keys up some porn. Brody is a jock's wet dream, one of those blonds whose skin takes a deep tan while his fine body hairs turn to golden down. He's got hard muscles and a mouth that begs to be kissed. Matching him for muscle and looks is Trystan Bull, a fantasy. Dripping from his shower, Trystan peers over Brody's shoulder. They massage swelling boners and watch the porn. When Brody puts a hand on Trystan's leg, Trystan drops the towel and feeds Brody his cock. His tapered torso twists and thrusts, and while Brody sucks, Trystan peels off Brody's tank top, saying "Show me that tight body." They hit the bed. Trystan flops on his back while Brody straddles him, centering Trystan's cock at the entrance to Brody's hard, tan buns. It's straight in halfway, then Brody initiates a slow hip flexor action that makes the rest of Trystan's cock disappear. The cum shots pay homage to many a guy's youthful wanks with pals, as these sexy beasts stand shoulder to shoulder, the muscles of their chiseled torsos flexing in tandem, and jack out an avalanche of jism.
Scene 2: Brandon Jones, Angel Rock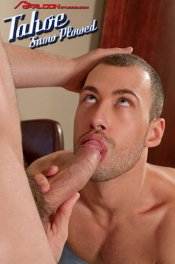 A hot shower is the perfect antidote to Tahoe's wintry chill, and Angel Rock dreamily plays with himself under the spray. Roving hands pinch his nipples, slide over his flat stomach, squeeze his furry pecs and drop to his cock. The cock, emerges from a dark bush. It's thick as Angel's wrist, with a translucent foreskin he slides back and forth. Sighing, Angel snaps back to reality and grabs a towel. Exiting the shower, he collides with Brandon Jones. Knowing an opportunity when it knocks, Brandon yanks the tented towel off and scoops Angel into his arms. He remains clothed as he kneels to suck. Angel feeds him that foreskin, circling his shaft with a thumb and finger and making the head of his cock disappear under the skin. Brandon goes cock wild, grabbing the fat salami to try it. In the bedroom we see the rest of Brandon — long and lean, without an ounce of fat. His ass is the target of Angel's tongue, which flicks and corkscrews until Brandon writhes in ecstasy. The hotness reaches a melting point when Brandon is face-down on the bed. Angel drills deep from above and Brandon thrusts back at twice the speed, using his long thighs as meaty springs. Their exertion is rewarded with cum geysers that leave them collapsed.
Scene 3: Jack King, J.D. Phoenix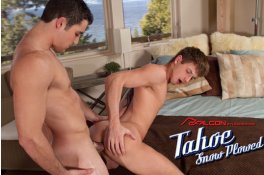 The air crackles and the snow is knee-deep, but Jack King is intent on a blow job and JD Phoenix is there to oblige. JD's mouth is the warmest thing for miles, but an alfresco bj in the snow has limits. A transition to their cozy room overlooking Lake Tahoe and rugged snow-covered mountains lets JD get on with swallowing while Jack ditches the heavy garments. His sculpted torso is tan, and he has a flat stomach with cum gutters tracing a "V" to his pubes. Jack locks his fingers behind his neck and arches his back, while JD has Jack's cock buried to the balls in his throat. JD takes a moment to strip so we can see his smooth, toned and slender build. Jack pulls him up for a brief tongue kiss then splays JD onto the bed. Grabbing JD by the ankles, Jack pins him down via a cock up his tight ass. JD chews the pillow and slaps the sheets as Jack pile-drives into him, each thrust deeper than the one before. The coupling ends with JD on his back and two cocks spraying high, white arcs of jism across the hard, flat landscape of his torso, leaving sweat and semen dripping down JD's face and body.
Scene 4: Connor Maguire, Johnny Ryder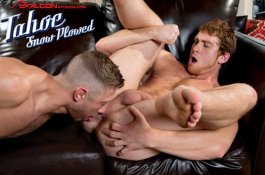 Connor Maguire and Johnny Ryder are resort staffers who keep the roads and footpaths clear of snow. An exhausting day of snow removal and some playful wresting in the powder gets them horny as heck. They can't wait to get home and play naked with each other. Once there, Connor's lips work magic on Johnny's long shaft. Then, Johnny shows he's no slouch at sucking. Their willing bodies are unwaxed, their muscles hard, their nipples at peaked attention. Johnny expands his territory by nuzzling Connor's taint with his nose, sucking his balls and lashing his tongue at Connor's hole like a shovel throwing snow. Not to be upstaged, Connor swaps positions and gives Johnny's meaty buns a taste of what tongue feels like, upping the ante with his cock. Johnny's body flexes and swells as he prepares to be penetrated, telling Connor to "stick it in." Fucking, they generate enough heat to melt the snow they're paid to shovel. Connor gives Johnny's buns a pounding that makes his muscles ripple all the way from hip to shoulder. As climax overtakes them, they separate and sit thigh-to-thigh, squeezing out cum shots that leave the slopes of their torsos as white as the mountain slopes.
Additional Information
Categories: UK R18 / XXX Gay Adult,
Themes: Anal Sex, Bathroom sex, Butt play, Butts, Cum shots, foreskin, Hairy, Masturbation, Oral sex, Rimming
Running Time: 107 mins, Year 2013
Price: Around £29*
Starring: Jack King, J.D. Phoenix, Angel Rock, Brandon Jones, Brody Wilder, Connor Maguire, Johnny Ryder, Trystan Bull
Director: Bruno Bond
Studio: Falcon Studios
Buy DVDs online at: Simply-Adult.com, Homoactive and Radvideo (USA)
Gay Video On Demand: Falcon Studios See also: www.gayvod.co.uk
Member site: Falcon Studios
Country: USA, Language: English
Additional info: No Regional Coding