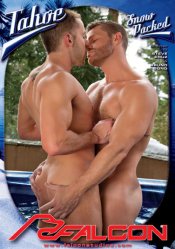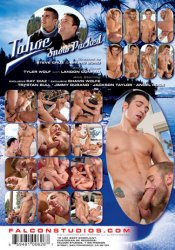 See also:
Tahoe: Snow Plowed


Summary:
Lake Tahoe is a winter playground filled with natural beauty, and it's a favorite spot where handsome, horny studs go for intense skiing and snowboarding. They also go for passionate recreation with other attractive men. As these eight men are about to discover, Tahoe is a sexual frontier worth exploring. Falcon's exploration of this sexual Winter Wonderland begins with Tahoe: Snow Packed. Directors Steve Cruz and Bruno Bond set primal forces in motion in Tahoe: Snow Packed. Rugged mountain slopes can't compete with the rugged, sculpted contours of Landon Conrad, who ravishes his smooth boyfriend, Tyler Wolf, in an outdoor hot tub. Ever-horny, Latino Ray Diaz has a plan to seduce dreamboat Trystan Bull. He waits to catch Trystan playing with himself, then makes an offer Trystan can't refuse. No orals here; all Ray wants is that cock up his ass. Angel Rock and Jackson Taylor are a contrast in type, but difference doesn't matter when Jackson grabs Angel's chiseled, furry pecs while working his tight, smooth buns in a lap dance to remember. Then Jimmy Durano and Shawn Wolfe put their oversized tub to good use. Shawn's toned, athletic furry body is the perfect complement to Jimmy's smooth bulk. The majestic landscapes inspire these guys to mimic the snowstorms outside with cum flying inside in Tahoe: Snow Packed.
Description / Review:
Scene 1: Trystan Bull, Ray Diaz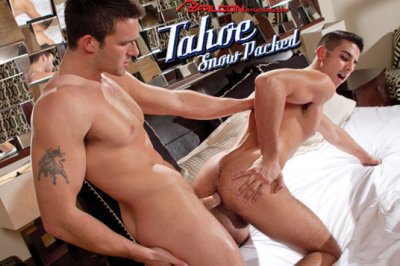 Every man likes playing with himself when he's naked. It's at such times that he's most vulnerable to seduction. That is the basis of Latin firecracker Ray Diaz's strategy for bedding Trystan Bull. Handsome and clean-cut, with liquid brown eyes and the hard body of a wrestler, Trystan has no idea he's the object of Ray's carnal desires. After a day on the cold slopes of Tahoe, he just wants a warm bath to take the chill out. Who could blame him for closing his eyes and indulging in a slow, sensuous, soapy wank? Ray is lurking around the corner, wrapped in a towel, watching. He savors the view of Trystan's hard cock, abs you could slalom off of, and a bubble butt that's high and round. When Ray reveals himself, Trystan is too heated up to say no. He asks Ray to wait until he rinses off, then join him in bed. Ray is single-minded about what he wants: that cock up his ass. So when Trystan's butt hits the sheets, Ray's hole lands on Trystan's upright cock. Ray fucks himself on Trystan's cock at every speed, every angle, and every intensity, until he's worn a groove in his prostate. They switch to a standing position then end up in missionary, dousing themselves with simultaneous blasts of jism.
Scene 2: Jackson Taylor, Angel Rock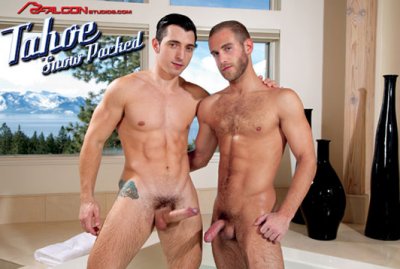 Angel Rock and Jackson Taylor are out enjoying the wintry views of Tahoe when a snowstorm sends them scurrying to the lodge. What better way to warm up than to share body heat? Angel's hairy gymnast's pecs practically burst out of his shirt when Jackson unbuttons it. Jackson is all contrasts: darker, slender and smooth. His slim body moves rhythmically as he and Angel smooch. Angel's cock is poised for action, defying gravity as it rises and bobs in response to Jackson's lip, teeth and tongue at his nipples. Angel's cock is a work of art — long, curved and uncut. As fat as Jackson's wrist. You wonder how Jackson makes it disappear down his throat. When Angel leans back on the sofa, Jackson straddles his face like a saddle, spreading his tight, smooth butt. Angel's tongue quickly finds the soft, tender hole. He makes Jackson's two tight handfuls of ass quiver and tremble. Grasping Jackson's tiny waist in two hands, Angel guides him to his waiting cock. Penetration is instant. Jackson takes charge, swiveling and gyrating his hips to stimulate every square inch of his hungry fuck chute. In a breathless climax, Jackson sprays cum wildly across his thighs and torso, triggering a thick ball-basting from Angel.
Scene 3: Jimmy Durano, Shawn Wolfe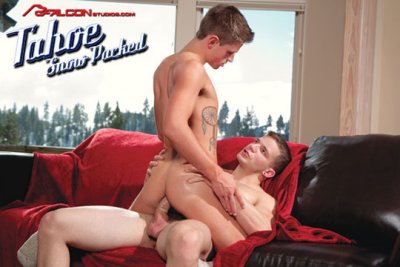 Brrr. The fountain is frozen in Tahoe's town square, but Jimmy Durano and Shawn Wolfe know a quick way to get warm. They head to their room and draw a hot bath. The tub is big enough for smooth, muscular Jimmy and lean and furry Shawn. Sitting in the tub, their swollen dicks pop up like periscopes. When Shawn reaches over to grab Jimmy's cock, Jimmy rises, and his cock spears Shawn's mouth dead center. Shawn's hands are busy exploring Jimmy's torso and playing with his foreskin as he sucks. Then Jimmy takes a turn sucking, cupping Shawn's tight buns in his hands. Shawn's treasure trail leads to more fur in all directions: hairy legs that will warm you when they wrap around you and a hairy crack and balls. They fuck in the tub, with Jimmy sitting and Shawn lowering his ass onto the pole that brings intense pleasure. After Shawn loosens up, he leans forward, bracing himself on the ledge, for Jimmy to take him from behind in rapid full-bore thrusts that set the water roiling. Orgasms await them on the ledge of the bath, with Shawn on his back, cumming in high jets on his furry belly and taking Jimmy's hot white load in his mouth.
Scene 4: Landon Conrad, Tyler Wolf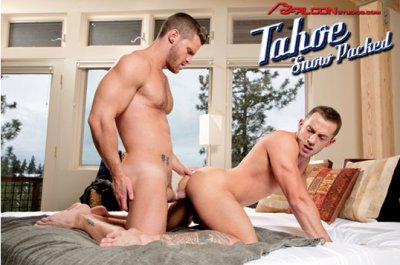 The heat of a romantic fuck gets kicked up several notches by an outdoor hot tub, a panoramic view of snow-covered pines, and a slow drizzle of rain. Landon Conrad's biceps bulge as he clasps Tyler Wolf in an embrace. Their lips and their hard ons are pressed tightly together. Tyler's tan hides the palest pelt of nearly invisible downy hairs and his buns hint at a dark center waiting to be breached. When they separate, Landon sinks to his shoulders in the steaming water. He clasps Tyler's cock in his mouth and inhales it to the root. The next kiss transports them to the bedroom, where Tyler puts his stubble-flecked jaws to work on Landon's engorged member. When Tyler arches his back and thrusts his hips into the air, his hole pulsates like a homing beacon for Landon. It swallows Landon's probing tongue and welcomes his cock. Looking down, Landon can see his shaft disappear again and again between the hard firm globes that hold it in a firm grip. His sweat pours down like the rain outside and Tyler's precum pools on his tummy, until Landon adds a blizzard of cum on Tyler's face.
Additional Information
Categories: UK R18 / XXX Gay Adult,
Themes: Anal Sex, Bathroom sex, Butt play, Butts, Cum shots, foreskin, Hairy, Masturbation, Oral sex, Rimming
Running Time: 107 mins, Year 2013
Price: Around £29*
Starring: Tyler Wolf, Landon Conrad, Angel Rock, Jackson Taylor, Jimmy Durano, Ray Diaz, Shawn Wolfe, Trystan Bull
Director: Bruno Bond
Studio: Falcon Studios
Buy DVDs online at: Simply-Adult.com, Homoactive and Radvideo (USA)
Gay Video On Demand: Falcon Studios See also: www.gayvod.co.uk
Member site: Falcon Studios
Country: USA, Language: English
Additional info: No Regional Coding