Summary:
The sun is shining on Paddy O'Brian, who has risen to gay porn super-stardom in record time. Sun Kissed showcases his British charm, stunning looks, magnificent body and epic cock in three of his best scenes ever. Directors Steve Cruz and Bruno Bond offer Paddy a selection of hot welcoming bottoms and he fucks them every which way with the deep, intense, unrelenting pounding and slamming that have become Paddy's signature. First up, Edin Sol, is relaxing by the pool, but when Paddy emerges from the water, there's no rest for Edin's smooth buns. Next, hard-bodied Trenton Ducati surrenders his mouth and hole to an onslaught of Paddy's beer-can cock. In addition to Paddy's Sun Kissed escapades, Cruz and Bond bring you a spectacular flip fuck featuring Tate Ryder and Shane Frost. Finally, Paddy returns and claims Ray Diaz's hole. Ray is only too happy to submit his amazing ass to the massive meat Paddy delivers. You'll want to skip the sun block and grab the lube when you enter into Paddy's Sun Kissed world filled with the sexiest men and the hottest sex!
Description / Review:
Scene 1: Paddy O'Brian and Edin Sol
Also available: The Best of Paddy O'Brian (Compilation)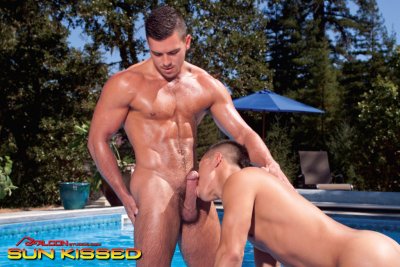 Edin Sol relaxes in the sultry sunshine by the pool. His high buns are like a red flag to a bull, and the bull in question is Paddy O'Brian, who rises from the depths of the pool, with a hard on. They make eye contact. Paddy aims his beer can cock in Edin's direction and it's instantly sheathed in Eden's warm mouth. While Edin works his jaws to accommodate Paddy's hugeness, Paddy kneads Edin's smooth plump buns, his fingers probing the crack, seeking the heat within. In a flash, Edin is on his back. His balls and hard cock glisten. Edin is naturally brown, full-lipped, smooth and toned. Paddy is brown from the sun, packed with hard muscle and a bit of body hair. His cock has gained entrance to Edin's hole and he's sawing back and forth in smooth, rhythmic strokes that curl Edin's toes. With a sloppy kiss,Paddy turns Edin over and enters him from behind, plundering his hole while raining down sweat until he's ready to erupt in fireworks of jism, soon followed by the extra thick eruption that bursts from Edin's cock.
Scene 2: Paddy O'Brian and Trenton Ducati
Also available: The Best of Paddy O'Brian (Compilation)


Paddy O'Brian is naked and alone at a huge pool, where he is fully enjoying squeezing and teasing his cock, pinching his nipples, caressing his balls. He splashes water on himself. It fails to cool him, but when he reaches into the pool again, a chiseled and muscled man emerges in the form of Trenton Ducati. Paddy reaches out to grasp his catch. Trenton's mouth latches on to Paddy's cock, balls, nipples ... any skin it finds. Paddy dives into the pool and emerges confronted by a winking hole that demands attention. He enters tongue-first, then follows with a driving finger and finally his cock. Paddy groans as if possessed by a demon as Trenton demands, "yeah, fuck me, right there!" And Paddy's fat cock hits the right spot, whether Trenton's on his back or on his knees. What began as a jack off, ends with Paddy squeezing out a juicy load into Trenton's mouth while Trenton cums all over.
Scene 3: Shane Frost and Tate Ryder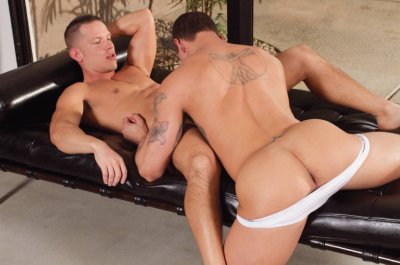 Shane Frost and Tate Ryder face off, attired in tighty whities bulging with hard meat. Shane is reclining on a couch, and Tate lays full length on top of him. They press their bodies together and kiss amorously and playfully. Tate's lips work magic on Shane's cock: they squeeze, they enclose, they swallow, they suck … all while making eye contact that drives Shane into ecstasy. Tate stands to fuck Shane's willing face, then he bends Shane into a ball and plunges his tongue and two fingers into the hole that he soon intends to fuck. Shane's ass quivers and his insides melt. He is ripe to be taken, and Tate takes him from behind, riding his ass in full bore strokes. Shane's hole is dripping. When they turn over, he seizes the chance to plug the unsuspecting Tate, squeezing and stretching Tate's balls while slamming him again and again with rock-hard meat that must have its demands met. Driven past endurance, Tate squirts a hefty load onto his belly, begging Shane to cum on his face. He gets his wish and they share a cummy kiss.
Scene 4: Paddy O'Brian and Ray Diaz
Also available: The Best of Paddy O'Brian (Compilation)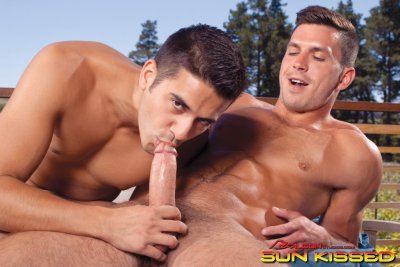 Buck naked on the patio of a spectacular vineyard, two dark-haired and dark-skinned demi-gods make out passionately in the open air. These two sculpted, handsome studs are no other than Paddy O'Brian and Ray Diaz. Their fiery kisses lead Ray to navigate his mouth across Paddy's bulging pecs and over his rippling abs to his stiff, massive cock. Ray slurps up this monumental testament of manhood producing approving sighs from Paddy. Ray delivers a breathtaking blowjob that has Paddy at full hardness, and both of them want to put his enormous hard on to good use. Ray gets on all fours and offers his ass to Paddy, and he relentlessly fucks it with energetic jabs and thrusts. Just when you think Ray can't take any more, he gets in reverse cowboy and the two of them take turns. Ray works his hole furiously over Paddy's huge trunk for a spell, then he stays stationary so Paddy can piston up into him mercilessly. After engaging in this exchange repeatedly, you would think these expert fuckers would be done, but there's more. Ray lies back and Paddy takes the driver seat expending every ounce of sexual energy until Ray shoots a magnificent load all over his chest, and Paddy follows with milky streams of cum! ..
Additional Information
Categories: UK R18 / XXX Gay Adult, Poolside Sex, Paddy O'Brian Gay DVDs
Running Time: 109 mins, Year 2013
Price: Around £29*
Starring: Paddy O'Brian, Edin Sol, Ray Diaz, Shane Frost, Tate Ryder, Trenton Ducati
Director: Bruno Bond, Steve Cruz
Studio: Falcon Studios
Buy DVDs online at: Simply-Adult.com, Homoactive and Radvideo (USA)
Gay Video On Demand: Falcon Studios See also: www.gayvod.co.uk
Member site: Falcon Studios
Country: USA, Language: English
Additional info: No Regional Coding