Description / Review:
After 1983 and 1988 ....
The legendary bike gang returns ... and this time the initiation is going to be brutal. Spokes III takes the themes of sexual submission and intense group sex of Falcon Classics Spokes and Spokes II to the next level.
When Mason Wyler arrives at his friend Ross Stuart's farm for a summer, he's warned to stay away from the bike gang that rides through town this time every year.
Stuart provides him with a cautionary tale of watching some of the guys fucking around in the garage the summer before. Mason's intrigued, but stays away ... or does he?
Scene 1: Ross Stuart, Tyler Marks, Jeremy Hall
Scene 2: Justin Wells, Derrick Vinyard
(See also: Chris Steele Director Picks 2 DVD set)

Scene 3: Ross Stuart, Dakota Rivers, Tyler Marks, Justin Wells, Derrick Vinyard, Pierre Fitch, Mason Wyler, Jeremy Hall, Ralph Woods
With the initiation coming up, Mason can't stay way from the barn. Ross is there too, but turns out he's already been initiated. That leaves just Mason as the new recruit and he's got to take the entire gang one by one, making for the most explosive gangbang ever caught on film: Mason's ass versus all eight members of the gang. Will he make it into the gang? Will he even survive?
Also available: Spokes I and Spokes II
---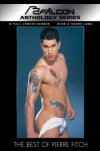 See also: The Best Of Pierre Fitch which features a scene from this title. The Best of Pierre Fitch shows what makes Pierre Fitch a true Falcon Legend! Eight scorching hot, full-length scenes from some of Falcon's greatest titles of all time make this collection a must own.