Summary:
A true classic. One of the most successful gay porn films of all time finally makes it to DVD. Uniforms, leather, hot hot sex and fantastically gorgeous guys. Believe the hype - this is a scorcher!
Description:
Scene 1: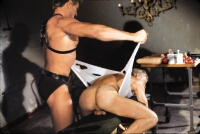 Leather-bound punisher Dolph Knight gives captive Scott Hogan the full range of discipline from flogging to anal beads to dildos...making Scott take it all forcefully and eagerly begging for more through his gag.
Scene 2:

Matt Gunther and Jason Ross subject captive Craig Slater to a variety of disciplinary measures including hot wax and the insertion of a long string of anal beads.
Scene 3: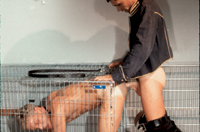 Craig Hoffman demands service from caged captive Scott Hogan. First Scott throats Craig's cock and then offers up his ass for Craig's pleasure. Craig gives Scott a hard pounding and then locks Craig's cage and walks away.
Scene 4: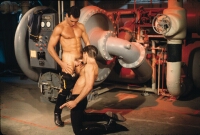 Matt Gunther steals musclestud Nick Manetti away for some erotic release in the boiler room. The two men take turns sucking each others cocks before Matt plays with and finally fucks Nick's hungry hole.
Scene 5:

Troy Hunter intrudes on captives Scott Hogan and Craig Slater, administering an enema to Craig Slater then making the captive eat his ass.
Scene 6: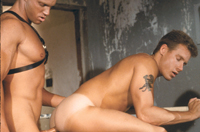 Dolph Knight draws Danny Somers into a scene of intense sucking, ass-play and fucking.
Scene 7: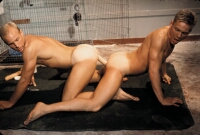 Scott Hogan convinces fellow captive Craig Slater to release him from his cage. Once free, Scott draws Craig into a steamy encounter of ass and dildo play before crawling back into his tiny cell.
Scene 8: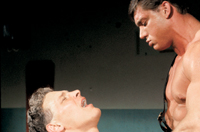 Jack Dillon happens upon Chance Caldwell playing with his hole and decides to give Chance an opportunity for a rigorous sexual workout. Jack stretches and pounds Chance's ass as he begs for more working himself and Jack into a frenzy of sexual energy.
---
Review
Bringing back memories of the adverts in American magazines furtively bought via mail order, The Abduction is one of those films that everyone should see at least once. And I can assure you - when you own a copy of this, you certainly won't stop with just the once!
The story is great - blond suburban guys get abducted by a mysterious military group and subjected to various "punishments" for your (and their) entertainment. The military setup is based on Eastern European-style uniforms and hierarchies, with plenty of horny soldier and prisoner action throughout.
We start with a horny blond being tied to a bench and spanked with a leather paddle by an extremely nasty looking Dolph Lundgren lookalike. The blond ends up with a nice red ass before being fingered and subjected to anal balls and a long dildo being inserted. Another cute blond follows and gets similar treatment from his harnessed and mean-looking captors.
There are then several more scenes in a similar vein - each being based on the premise of a guy in power being able to have his way with one of his prisoners.
More anal balls, an enema, boot licking, rimming, spanking and self-sucking all feature; with an extremely hot scene with 2 blonds using their tight buttholes to make the most of a double-ended dildo being a particular highlight.
If you've ever wondered what it might be like to be kidnapped by a group of sadistic sex gods - just watch this film and find out. Superb.