Summary:
One of Falcon's most notorious for two reasons:
First, cover model O.G. Johnson's massive, and I mean massive cock is one of the biggest on record. Guys, it's a fucking third leg.
Second, this is one of the very few films that featured the blonde, Christopher Atkins-like Adonis Kurt Marshall. He was "the one" for a while; easy to see why. Check him out in The Other Side of Aspen Part II (one of Falcon's most popular) and 1984's Splash Shots.
There's lots of in-flight, pre-condom, raunchy fucking and cum swilling here, along with some very-70s drug use. As I said, not one of the studio's all-time greatest ever, but it is a serious contender.
Description / Review:
Take the ride of your life in this non-stop action winner of the 1986 Gay Producer's Association Award. Flying Sky America tonight are some of the hottest, horniest studs on both coasts. Ignore the "occupied" sign and check out the plane's lavatory. That's where the action is! Once you're on the ground at SFO, you'll want to tag along with Captain Joe and Steward Mel to baggage Lost and Found. Tall, handsome Leigh Erikson can be very helpful when it comes to straightening out passengers' biggest problems. He's got a drawer full of solutions! Kurt's had a long wait--keeping the homefires burning--but it's worth it once his flyboy lover finally lands in their bed. That is, until an uninvited visitor arrives at dawn and Joe is forced to put his asshole where his mouth was earlier!
Scene 1: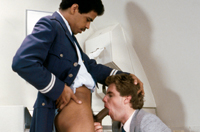 Buster is in the plane's bathroom jacking but forgets to lock the door. O.G.Johnson opens the door and decides to come inside. Luckily Buster likes sucking cock because O.G. has plenty. However, that's not all O.G. wants. Buster is bent over and takes all of O.G. up his ass.
Scene 2: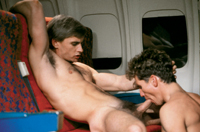 Flight attendant Ron Pearson takes passenger Mark Miller to the rear of plane. He quickly drops to his knees and begins slurping up Mark's dick. Ron takes Mark back to his seat and finishes sucking him off there.
Scene 3:

O.G. Johnson has returned to his seat but flight attendant Melchor is there to take as much of that cock in his mouth as he can. Buster is in the next row up and invites them up. So, it has now become a hot three way.
Scene 4: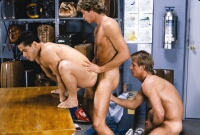 Once the land Joe Gere needs to go to lost and found as his luggage is lost. Working there is Leigh Erickson. Although he doesn't have Joe's luggage he does have some cock for Joe to suck on. Joe is still sucking on Leigh when in comes flight attendant Melchor who quickly joins in. First Melchor is fucked on the desk and then it is Joe's turn. Leigh has a massive dildo that he keeps in his desk drawer.
Scene 5: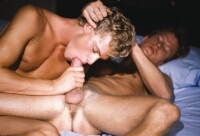 Kurt Marshall is patiently waiting by the fire for Joe Gere to come home. Once Joe finally gets home Kurt is eager to show him how much he missed him and Joe gets fucked again.
Scene 6: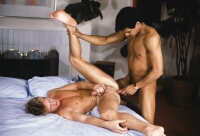 Joe Gere has only just finished reuniting with Kurt Marshall when the door bell rings. He answers the door to find O.G. Johnson. O.G. is upset with wife and decides that needs to sink his fat dick deep inside Joe. Luckily Joe is able to manage and they do not wake his lover upstairs.
---
The Best of Leo Ford Vs Kurt Marshall
See what made Leo Ford and Kurt Marshall true Falcon legends in The Best Of Leo Ford Vs. Kurt Marshall. Eight scorching hot, full length scenes from some of Falcon's greatest titles of all time make this collection a must-own! This DVD features scenes 5 and 6 from Night Flight amongst others.