Summary:

Warning! This one is not for the faint of heart. Greased is a scorching look at what really happens in the hottest auto-repair shop in town. With a crew of horny mechanics, a hunky boss knows the best way to service and please their sex-crazed customers and each other. The men have more on their minds than a simple lube job, and they promise to deliver enough man-on-man exploits to blow your gasket. This heart-pounding production is crammed with intense and forced sexplay including rough sex, bondage, spanking, deep-throating, ass-eating and even more long and hard butt-fucking action.
This Mustang video is a non-stop, no-holes-barred look at the men under the hood, and what they really do when they're asked to service their clients. When you witness the verbal abuse, ferocious spanking, ass-whipping, domination, and corporal punishment in this sex-soaked zipper ripper, you'll be stunned. The action is blisteringly hot and heart-poundingly riveting.
Scene 1: Robert Black, Dominic Pacifico


It's not easy running a garage especially when one of your mechanics is screwing up. Bossman Robert Black furiously makes his displeasure known. After a vitriolic tongue-lashing, Robert inflicts more punishment with a physical battering and Dominic Pacifico knows it would serve both of them best not to complain and to just lay back and take it - and give it - like a man.
Scene 2: Peter Axel, Dominik Rider


Neanderthal mechanic Peter Axel intercepts client Dominik Rider on the way to the bathroom, and subjects him to non-stop man-action. The sex is rough, primal, hard and steady, culminating with Peter finger-fucking Dominik's twitching asshole and then forcing his engorged cock into the young man's asscrack, both men grunting and gasping with excited gratification.
Scene 3: Dak Ramsey, Robert Thorn, Lars Svenson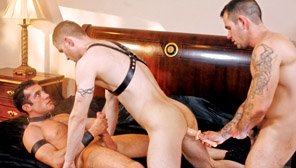 Tow-truck driver Dak Ramsey is dispatched to pick up a customer's disabled car, but is tricked into leather master Lars Svenson's ominous web of rigorous sexplay which includes Robert Thorn – a willing and completely compliant underling for them to humiliate and abuse. It's pointless for Bo to resist and much more pleasurable when he gets to call the shots.
Scene 4: Justin Riddick, James Hamilton


It's quittin' time, but for new guy James Hamilton and his supervisor Justin Riddick, the fun's just beginning. The seasoned mechanic is quick to teach his new apprentice how to properly service another man, and the rookie is just as quick to learn all the tricks the sexy grease monkey has to offer.