Summary:
Making sure our servicemen are Fit for Service is a tough job. Luckily there are the skilled medics whose crackerjack training has prepared them to properly treat the soldiers... and their privates.
Description / Review:
Scene 1: Samuel Colt and Drew Cutler

Samuel Colt and Drew Cutler find themselves stuck waiting at the doctor's office. Samuel needs to see someone about his erection that won't quit so Drew suggests he take a look and see if he can remedy the situation. Samuel's cock is indeed hard so Drew administers to it by opening wide and sucking it down his throat, giving the troubled soldier some relief. Soon Drew's got a boner just as stiff and Samuel wraps his lips around it and sucks away before he hunkers down and eats his new buddy's ass. Samuel then gets in position and fucks Drew hard, slamming his cock as deep inside as he can. They continue screwing fast and furious, even after moving onto an exam table, until they both blast their thick loads.
Scene 1: Tony Aziz and Luke Marcum


Tony Aziz has his legs up in the stirrups so medic Luke Marcum can give him a rectal exam. Luke slips on his rubber gloves and probes Tony's asshole. Then he stretches it wide open with a speculum to really check it out. But something still seems amiss so Luke slides a finger inside Tony's ass to feel it up. Staring him right in the face is Tony's cock so Luke leans forward and sucks it in. Tony reels with pleasure as Luke labors over his meat and then works his tongue all around his puckered hole. Luke prescribes a new course of action and he drives his cock up Tony's butt. They continue to fuck in a variety of positions just like the doctor ordered and finally finish with Tony sucking Luke to climax while he jerks himself off and cums.
Scene 3: Paul Wagner, Cavin Knight

When Paul Wagner walks into Cavin Knight's office, he's glad to find the good doc available and at his service. Cavin dives into Paul's arms and then down into his crotch where he gets to work making sure his soldier boy's getting the best oral treatment around. Paul soon takes his turn sucking on Cavin's dick before he bends over to get his hairy ass rimmed. It feels so good that Paul's sweating bullets. Then it feels even better when Cavin slams Paul's hole with his thick cock. The two men grunt their pleasure as they fuck non-stop. Paul lays spread-eagle and completely vulnerable as Cavin continues to plow his hole, thrusting his hips forward faster and faster. Excited and wanting more, Paul gets up to eat out Cavin's asshole and then one after the other, the men shoot their loads.
Scene 4: Tristan Jaxx, Tom Wolfe
It's the end of their shift and medics Tom Wolfe and Tristan Jaxx meet up in the locker room. The conversation centers on the new recruits; Tom says that some of them have really big dicks so Tristan boasts they've got nothing on him. He drops his towel to prove he ain't kidding. Tom's so impressed with Tristan's uncut piece of meat that he gets down on his knees and gobbles it up. Then Tristan lays on his back so Tom can gaggle-fuck his face hard. Being a man of honor, Tom knows that when he starts a job, he's gotta complete it with distinction so he buries his face between Tristan's butt cheeks and licks his hole. Tom's distinguished service is soon put on further display as he rams his dick up Tristan's ass to fuck him. He modulates the butt drills, hard and fast, then slowly and gentle, exciting both men until they finally climax and bust their nuts.
Scene 5: Drew Culter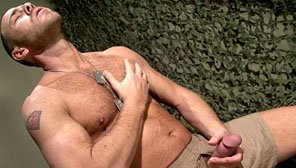 Stripped down to his regulation skivvies Drew Cutler decides to free his cock and balls. He fishes them out and by sheer muscle strength has his dick dancing to and fro. He grabs a hold of his big sausage and starts to stroke it. Then he pulls off his top and tweaks his tits while he continues jacking off. He plays with the drops of pre-cum oozing outta his piss slit, then sheds his boxers so he can continue masturbating without wearing anything that might restrict his enjoyment of the act. His hand pumps his cock faster and faster, almost becoming a blur; but it's clear what he's going for. And finally, after more cock wrenching, Drew finally unloads.
Scene 6: Luke Marcum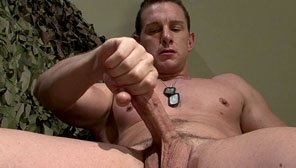 Dressed in his blue scrubs, Luke Marcum reaches deep down inside his pants and touches his fleshy man bits. Then he shrugs off his shirt and frees his cock which is already hard and aching to be squeezed some more. Luke strokes his meat pole and his entire body responds to the touch: his nipples are erect and perky; his pecs tense-up; and his dick seems to project itself firmer and harder with every tight pull. Luke's brow is soon glistening with sweat and he doesn't stop fiddling on his instrument until he finally explodes, shooting spurts of spooge onto his belly.